I'm on Team Nigella, says David Cameron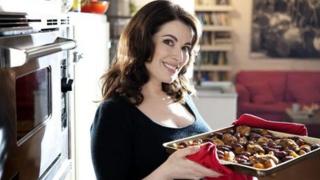 David Cameron has revealed he is a "massive fan" of TV chef Nigella Lawson, who is involved in a court case against her two former personal assistants who deny fraud.
Ms Lawson has admitted during proceedings to taking cocaine but denies ever having a drugs habit.
Asked if he was on "Team Nigella" - an informal grouping of supporters - the prime minister said: "I am."
He told the Spectator magazine Ms Lawson was "very funny and warm".
'Little black book'
In his interview with editor Fraser Nelson, he said he wanted "passionately" to lead a Conservative, rather than coalition, government after the next general election.
He was compiling a "little black book" of ideas for his party's next manifesto.
But the prime minister moved on to lighter subjects.
Asked what was his favourite Christmas song, he did not offer a choice, but said he was "driving (his wife) Samantha mad" by continually playing the album Babel by the folk rock band Mumford & Sons.
Ms Lawson, the daughter of former Conservative Chancellor Lord Lawson, has written several recipe books and has presented cookery shows on the BBC and Channel 4.
Her former personal assistants, Francesca and Elisabetta Grillo, are currently on trial for alleged fraud against Ms Lawson and her former husband Charles Saatchi. Both deny the charges.
Since Ms Lawson admitted to having used cocaine, fans have launched a #TeamNigella campaign on Twitter in a show of solidarity.
Asked if he was on the team, Mr Cameron said: "I am. I'm a massive fan."
He added: "I've had the great pleasure of meeting her a couple of times and she always strikes me as a very funny and warm person, but I'm also an amateur cook and I like like her recipes.
"Nancy (Mr Cameron's nine-year-old daughter) and I sometimes watch a bit of Nigella on telly. Not in court, I hasten to add."