Pay better wages, minister tells Domino's Pizza boss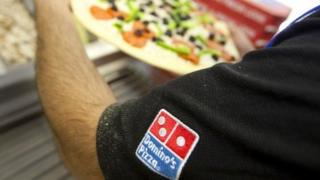 The boss of Domino's Pizza should "probably pay his staff a little more" if he wants to recruit extra workers, the UK's immigration minister has said.
Chief executive Lance Batchelor has complained that he has been unable to fill 1,000 vacancies since migration rules were tightened up.
But minister Mark Harper said Domino's should "reflect" on salaries, adding: "It's a market."
He said the law would not change "just so he can keep his wages low".
Mr Batchelor, who is leaving Domino's to work at Saga, told the London Evening Standard the pizza takeaway and delivery chain was "struggling to get enough employees", especially in London and the south east of England.
He added: "People who would have worked here a few years ago now don't want these jobs. We could fill 1,000 jobs across the UK tomorrow if we could get candidates to apply for them."
'Profitable'
Mr Batchelor's comments came ahead of the ending of transitional restrictions on Romanians and Bulgarians working in the UK coming on 1 January.
Mr Harper told the Commons Home Affairs Committee: "Mr Batchelor was talking about hiring people in his particular pizza chain. And it seems to me that if you have jobs available and you can't fill them, he perhaps ought to just reflect on the salary package that he's offering".
He added: "He should probably pay his staff a little more and then he might find them easier to recruit then. It's a market."
Mr Harper said the government would not make it easier to bring in "relatively unskilled" workers from "outside the European Union just so that he can keep his wages low.
"He runs a profitable business. He should pay what the market demands."
He added that Mr Batchelor had been "implying" it would be easier to take on staff if restrictions on those coming from outside the EU were relaxed, but should instead "look at" rates of pay.
Domino's employs 25,000 people in the UK and has more than 700 outlets.