Defence procurement privatisation plan axed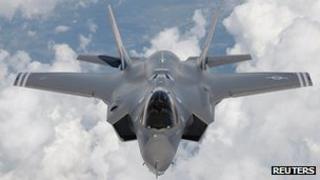 The government has abandoned plans to privatise its defence procurement body after only one bidder was left in contention for the contract.
Defence Secretary Philip Hammond said there was no longer a "competitive process" and the risks of continuing were "too great to be acceptable".
But private sector experts are to be hired to buy military equipment, he told MPs.
Labour described the decision as an "embarrassing U-turn".
The Bristol-based Defence Equipment and Support Agency has an annual budget of £14bn. It buys equipment including ships, aircraft and weapons for the armed forces.
'Match-fit'
The Ministry of Defence (MoD) had been considering replacing the agency with a "government-owned, contractor-operated" (GoCo) body, which it said would streamline operations and provide better value for money.
But two of three consortiums interested in the contract withdrew.
Mr Hammond told MPs: "I've decided not to continue the present competition."
He added that the "heart of our approach was to test the market conditions for delivering GoCo", saying: "I've always recognised that there are risks inherent in the GoCo approach."
With only one bidder left, Mr Hammond said he had "made a judgement", as "we do not have a competitive process".
"We therefore concluded that the risks of continuing with a single bidder are too great to be acceptable," he said.
But the agency would still get a "significant injection of private-sector skill", Mr Hammond told MPs, adding that this would ensure "the organisation becomes match-fit".
Mr Hammond told MPs he was creating a new arms-length government trading entity to buy equipment and supplies, which would be able to recruit and manage staff "along commercial lines".
For Labour, shadow defence secretary Vernon Coaker: "It's another embarrassing U-turn for the government."
He added: "You can't run defence and security on an ad hoc basis."