Plan to privatise defence procurement to be 'scrapped'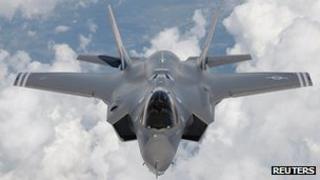 Plans to privatise the UK government's defence procurement arm are set to be scrapped, the BBC has learned.
The Ministry of Defence could make the announcement next week, sources said.
The MoD had been considering replacing the Defence Equipment and Support agency - which buys armed forces equipment - with a "government-owned, contractor-operated" (GoCo) body.
Two of three consortia interested in the contract have now withdrawn. The MoD said no decision had been made.
Labour said it looked like "another embarrassing U-turn for the government".
The Bristol-based Defence Equipment and Support agency has an annual budget of £14bn to buy equipment, including ships, aircraft and weapons for the armed forces.
'Active competition'
As part of Defence Secretary Philip Hammond's desire to make the MoD more cost-efficient, a number of options were being considered, including running it as a quango in partnership with a private contractor as well as a "GoCo".
A source told the BBC: "We always wanted to ensure we got the best competition possible. We wanted a number of consortia in an active competition but we have been left with just one.
"Although no final decision's been taken it's looking increasingly likely that the defence secretary will end the commercial competition."
The source said ministers would make an announcement to "clarify the situation, as soon as possible" but added that "there were still a couple of tunes that could be played on this particular fiddle."
Labour's shadow defence minister, Alison Seabeck, commenting on the speculation said: "This looks like another embarrassing U-turn from a government that doesn't listen.
"Despite Labour's warnings about poor management of the process and the serious concerns raised about its viability, ministers continued to insist that everything was fine.
"That was clearly wrong and it's a combination of incompetence and arrogance that has wasted millions of pounds of taxpayers money.
" It has also left the government's plans for much-needed reform of defence procurement in disarray. It's the latest fiasco at the Ministry of Defence on David Cameron's watch."
Last month, former Tory defence minister Lord Lee of Trafford suggested the GoCo was "dead in the water" but at the time the government insisted a deal was still possible.
He told peers there were now too few private firms bidding to take over the organisation, which employs 21,000 people across the UK.
He strongly criticised the MoD's oversight of the project.