Nelson Mandela death: Tories 'right on South Africa'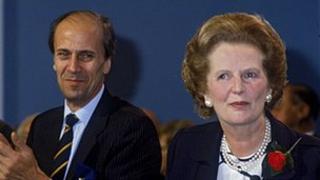 Margaret Thatcher's government was right to ignore sanctions against apartheid-era South Africa, former Tory chairman Lord Tebbit has said.
He also defended Conservatives, including Lady Thatcher, who had described Nelson Mandela as the leader of a "terrorist" organisation.
He said the ANC "had begun to resort to terrorism" at the time.
His comments come the day after South Africa's former president died at the age of 95 in Johannesburg.
Mr Tebbit said he regretted some of his past remarks and praised Mr Mandela's contribution to ending apartheid.
Lady Thatcher called the ANC a "typical terrorist organisation" at a 1987 press conference in Vancouver.
She resisted sanctions against South Africa, arguing apartheid should be dismantled "by negotiation" and sanctions would be counterproductive.
Lord Tebbit told BBC Radio 4's World At One: "I'm not sure that it was thought that it was our business to instruct South Africa how to manage its internal affairs but we did not think that seeking to damage the South African economy would contribute to the search for a perfect settlement and we were proved right.
"It might have ended it (apartheid) earlier but it would probably have ended it in violence and bitterness and history shows that that was not the way it ended."
Asked how much credit he gave Mr Mandela for that, he replied: "At the end I gave him enormous credit for it.
"He was able to come out of prison after 27 years not bitter, not angry and able to look at the world and change his mind on a number of major issues and I think that is a tribute to him."
The former Conservative Party chairman faced criticism in the 1980s when he claimed there was a "stinking hypocrisy poured out daily" about South Africa.
Asked if he regretted comments he made at the time, he said: "We all sometimes say things rather heatedly that possibly, in retrospect, might have been said more calmly."
He dismissed suggestions he should have regrets about the way the Conservative government dealt with South Africa in the 1980s.
"You have to act within the constraints of the time and I get very irritated by people who judge the past by the present. It is not very sensible," he said.
"After all, if you do that you might finish up declaring that Cromwell was a terrorist and that wouldn't be a very sensible view to take, would it?"
Reminded that many Conservatives had called Mr Mandela a terrorist in the 1980s, he replied: "He was the leader of a political movement which had begun to resort to terrorism."
In 2006, Conservative leader David Cameron flew to South Africa to apologise to Mr Mandela in person for the "mistakes my party made in the past with respect to relations with the ANC and sanctions on South Africa".
He said Lady Thatcher had been wrong to brand the ANC "terrorists".
London Mayor Boris Johnson was earlier quizzed about the Conservative Party's attitudes to Mr Mandela and the ANC in the past.
He said he disagreed with it but was "not politically operational" then, adding: "I never in my life deviated from the position of fervent, fervent admiration for Nelson Mandela."