Political thinkers: Mill, Marx, Schumacher and Paine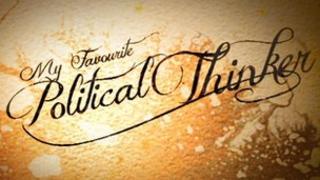 Great political thinkers from history are being cheered by famous faces of today in a series of Daily Politics films.
Reporter Giles Dilnot talks to those who are championing those who are known to historians, but perhaps not to the wider public.
The films are airing on Friday's Daily Politics - broadcast at lunchtimes on BBC and at midnight on BBC Parliament - which are then on iPlayer for UK viewers for seven days, but the full films can also be seen below.
Some of the contributors then join Andrew Neil in the studio for a debate with his guests of the day to follow up the ideas in their film.
Gandhi film (from Hardeep Singh Kohli)
John Locke film (from Lisa Nandy)
Peter Kropotkin film (from Tom Hodgkinson)
Niccolo Machiavelli film (from John McTernan)
Edmund Burke film (from Jesse Norman)
Friedrich Hayek film (from Louise Cooper)
Mary Wollstonecraft film (from Gloria de Piero)
Ayn Rand film (from Charlie Wolf)
J S Mill film (from Toby Young)
Thomas Paine film (from Norman Baker)
E F Schumacher film (from Alistair McGowan)
Karl Marx film (from Owen Jones)