Nelson Mandela death: UK Parliament plans tribute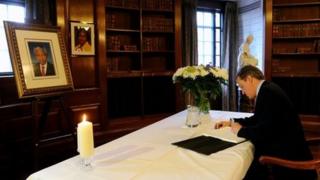 The UK Parliament is to host a special ceremony to commemorate the life of Nelson Mandela, who has died aged 95.
Sources say the event will be for a wide range of people whose lives were influenced by the former South African president.
Prime Minister David Cameron led UK political tributes to the anti-apartheid crusader.
He hailed the "extraordinary generosity and sense of forgiveness that he had for those who done him so much harm".
Mr Cameron signed a condolence book for Mr Mandela at South Africa House, in central London.
'Unity and reconciliation'
He wrote: "The cause of fighting for freedom and against discrimination, your struggle for justice, your triumph against adversity - these things will inspire generations to come.
"And through all of this your generosity, compassion and profound sense of forgiveness have given us all lessons to learn and live by. Blessed are the Peacemakers for they shall be called the Children of God."
The flag at No 10 is being flown at half-mast in honour of the former leader, who Mr Cameron described as a "hero of our time".
Labour Leader Ed Miliband has added his tribute to the book of condolences at the South African High Commission in Trafalgar Square.
He wrote: "We remember your determination, your courage, and your spirit of reconciliation.
"You inspire us to higher ideals, noble purposes and to fight injustice wherever we find it.
"You teach us to seek unity and reconciliation, not division and bitterness. Your inspiration lives on and convinces us that people as part of a movement can overcome the largest obstacles.
"We mourn your loss. We give thanks for your life."
Lib Dem leader and deputy prime minister Nick Clegg said: "Every so often history produces an individual whose message is universal, and Nelson Mandela will be mourned and missed on every continent around the globe.
"The hope he offered was enough to unite races."
'Wide attendance'
Former prime minister Tony Blair said Mr Mandela was a "great man" who had made racism "not just immoral but stupid: something not only to be disagreed with, but to be despised".
London Mayor Boris Johnson visited the shrine at South Africa House to pay his respects "on behalf of Londoners".
He said the "idea of a latter-day saint is much abused" but added that there was no doubt in his mind that the outpouring of admiration and praise for Mr Mandela is wholly appropriate.
When asked about the Conservative Party's attitudes to Mr Mandela and the ANC in the past, he said he disagreed with it but was "not politically operational" then, adding: "I never in my life deviated from the position of fervent, fervent admiration for Nelson Mandela."
He has encouraged well-wishers to lay flowers at the base of Mr Mandela's statue opposite the Houses of Parliament.
MPs and peers will be given the opportunity to pay tributes to Mr Mandela in the House of Commons and the Lords on Monday.
But Parliamentary sources say they are examining holding a special event at which "remembrances, testimonials and dedications" could be paid.
Final details are still being worked out, but the event would be for "people from across civic society with a very wide attendance".
'Strength of character'
Labour MP Peter Hain, whose family fled South Africa because of their support for Nelson Mandela's cause, backed the plans, which are being drawn up by Commons speaker John Bercow and Lord Speaker Baroness D'Souza.
He said it would be a "major event" for "civil society, for the anti-apartheid diaspora still in London, for everybody who wants to commemorate Nelson Mandela's life".
Mr Hain, who was a leading figure in the anti-apartheid movement in the 1970s, described Mr Mandela as the "icon of all icons".
David Cameron will lead tributes in the Commons on Monday, with Mr Miliband and Mr Clegg also expected to speak.
Speaker Bercow said honouring Mr Mandela would be MPs' "principal occupation", adding that he confidently expected the day to be devoted to it.
He described the late South African leader as an "icon", saying his strength of character in forgiving the regime that had imprisoned him for over a quarter of a century was "beyond the realm of normal imagination".
The BBC's chief political correspondent Norman Smith said the planned event in Westminster Hall, the oldest building in Parliament, would be an "unprecedented occasion".
It has previously played host to US President Barack Obama, who addressed both Houses of Parliament there in 2011, and Pope Benedict XVI.