Local business plans must show value, says National Audit Office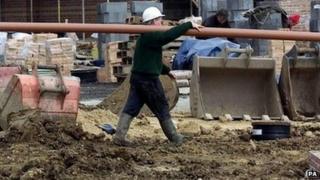 The government's schemes for boosting England's regional economies have "not yet demonstrated" they can deliver value for money, a report by the UK spending watchdog says.
The coalition has introduced Enterprise Zones, City Deals, Local Enterprise Partnerships and the Regional Growth Fund since gaining power in 2010.
But the National Audit Office (NAO) said it had to ensure "accountability".
The government said its plans to boost business were working.
After the Conservative-Liberal Democrat coalition came into office, it promised to do more to encourage local enterprise and free up businesses from red tape.
'Different rates'
It abolished Regional Development Agencies established by Labour and set up several schemes, including:
Local Enterprise Partnerships - small, strategic partnerships, created by local businesses and civic leaders
Enterprise Zones - areas hosted by Local Enterprise Partnerships in which businesses receive incentives to start up or expand
The Regional Growth Fund - a competitive fund open to businesses
City Deals - agreements between central government and cities aimed at devolving powers and funding mechanisms
In its report, the National Audit Office said the estimated costs of the schemes would be £3.9bn over the four years to 2014-15.
Local Enterprise Partnerships were making progress, "though at different rates", it said.
The 24 Enterprise Zones in place faced "a significant challenge to create the number of jobs expected". The original forecast of 54,000 extra by 2015 had been downgraded to between 6,000 and 18,0000, the NAO added.
It found the the Regional Growth Fund had had a "slow start", while the eight City Deals were "at an early stage" but "progressing well in establishing the right structures and processes".
'Make sure'
But it was "not clear that the government has achieved its objective to 'increase democratic accountability and transparency, and ensure that public expenditure is more responsive to the needs of local business and people'".
NAO head Amyas Morse said: "Three years on from the 2010 white paper, the new Local Enterprise Partnerships are taking shape and jobs are being created.
"But the transition from the old to the new schemes has not been orderly and there has been a significant dip in growth spending."
He added that "central government needs to make sure that there is enough capacity centrally and locally to oversee initiatives, that timescales are realistic and that there is clear accountability".
Local growth minister Kris Hopkins said: "This government is taking the difficult decisions needed to tackle the deficit inherited from the previous government and, thanks to our long-term economic plan, we're now seeing the UK economy growing faster than any of our competitors.
"We are investing billions through our growth programmes, supporting thousands of local businesses, securing billions in private-sector investment, boosting skills and creating tens of thousands of much-needed local jobs."
He added: "And we are now reaping the rewards, with the latest GDP figures showing the economy is back on track, with the deficit falling and employment at its lowest for more than three years."