Axe-men and goldfish enthusiasts among those to escape 5p bag levy
By Ed Lowther
Political reporter, BBC News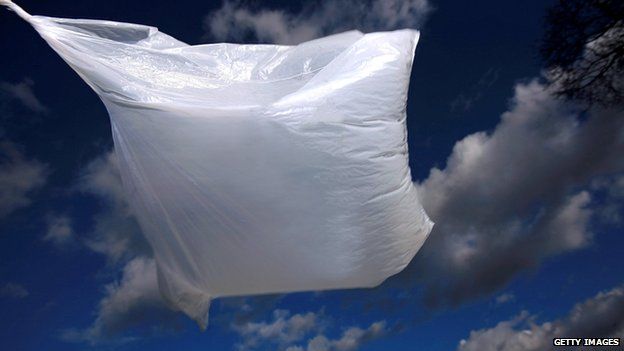 A 5p levy on single-use plastic bags will be introduced in England from October 2015 - but there will be exceptions with the Department for Environment and Rural Affairs suggesting that if you buy the following goods your bag will be free....
Purchasers of a variety of bladed goods, including axes, knives and razor blades, will not be charged an additional 5p to carry them home in a plastic bag if they are not already packaged in some other way.
It is not clear whether this is meant to protect the carriers of blades from injury as they rummage in their reusable bags, or whether ministers fear that penny-pinching blade-buyers will provoke panic on the streets as they roam around with their unsheathed acquisitions.
At AHC tool shop in Surrey, where axe-buyers are handed their purchases in a cardboard box, the notion of distributing axes in a single-use plastic bag is greeted with some derision.
Plastic bags that hold otherwise unpackaged meat will also be free of charge.
The Food Standards Agency's Michael Jackson has previously warned: "Packing raw meat and fish with ready-to-eat foods can lead to spreading germs which can cause food poisoning, especially if there are any spillages or leaks from the raw meat packaging.
"While a carrier bag may look clean, there is always the potential for these germs to spread onto food which is ready to eat.
"That's why it's a good idea to have separate, identifiable bags for raw and ready-to eat-foods."
But Paul Williams, from Brighton's Brampton Butchers, is not impressed with the case for a meat-motivated exemption.
Branded bags designed by a local firm and made from reusable materials are used to distribute the meat he sells, with bag proceeds going to support a local children's hospice.
Meat securely wrapped in two layers of paper can be placed in a reusable bag quite hygienically and with a reduced environmental impact, he claims - before adding that bags that do sustain leakages can simply be washed.
As it has fewer than 250 employees, Brampton would not be forced to charge the levy under the proposed new law, but Mr Williams is critical of larger retailers' reliance on plastic bags, even when selling meat.
"If we can find a solution, then so can they," he says.
The Welsh government pioneered the move towards charging for single-use bags in the UK and masterminded many of the exemptions which now look likely to be adopted in England.
A spokeswoman defended its inclusion of bags containing live fish in water on the exemption list, arguing that it was unreasonable to expect fish-shoppers who weren't also planning to buy a new tank to bring more substantial receptacles to the pet shop.
They would struggle to carry their new aquatic friends home in their hands, she remarked.
She also highlighted the importance of avoiding perverse incentives that might steer people towards using the thicker "bags for life" only once.
The exemption also applies to bags containing recently deceased fish and their ilk.
"In the old days, we used to use greaseproof paper," recalls Gerald Fletcher, from East Lincs Seafood. "It was alright for a while, but then it made a mess."
So as a matter of course, fish are now dispensed in "throwaway" plastic bags, Mr Fletcher says - although he has noticed a greater proportion of customers transferring these to their own reusable bags, made of washable linen.
But, he concedes, 5p does not seem like an excessive premium on the average seafood purchase.
Green-fingered shoppers may benefit from the exemption on bags containing loose seeds, bulbs and similar products.
Peter Burks, the chairman of the Garden Centre Association, is supportive of the proposal. "My thinking is you couldn't possibly carry them out any other way," he says.
There is also a risk of skin irritation from contact with Hyacinth bulbs, Mr Burks notes - but he is not aware of any other potential health risk associated with placing the exempted products in reusable bags with other produce.
It is interesting to speculate, he agrees, on whether gardeners would be more likely to struggle back to their cars with armfuls of loose produce - or simply cough up the additional 5p.
The government also does not plan to impose a 5p premium on the privacy of prescription-drug recipients as they leave the pharmacy.
In a submission to the consultation ahead of the law-change in Wales, Boots the chemist also suggested that a bag levy charged at pharmacies - but not when drugs were dispensed at GP surgeries - would "work  against" the Welsh government's strategy to "deliver care in the heart of communities".
The precise influence that an additional 5p premium on plastic bags is likely to have on consumer behaviour in England is uncertain.
But it is worth bearing in mind that the levy heralded precipitous declines in the distribution of single-use bags in Wales and later Northern Ireland - despite the odd exemption.
The levy will spread to Scotland in 2014, and the UK government anticipates that England will join the 5p-club in 2015, with retailers encouraged to donate the proceeds to worthy causes.
One academic paper scrutinising a similar scheme's impact in Ireland in 2006 wondered whether it was the "most popular tax in Europe".
The Department for the Environment and Rural Affairs has set up a consultation website with full details on the plans, aiming to gather evidence - including on whether these exemptions are the right ones.