Ed Balls accuses George Osborne of economic complacency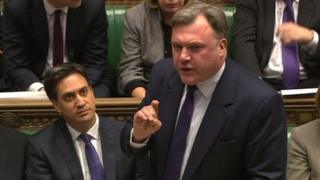 Ed Balls has accused George Osborne of "breathtaking complacency" over Britain's economic recovery.
He said the chancellor was in "complete denial" about the "cost of living crisis" facing hardworking families.
Mr Balls said rising bills and falling wages meant that most people had not felt the recovery taking hold.
He claimed people were £1,600 a year worse off than when the government took office in 2010, with only the rich benefitting from the improving economy.
"For all his boasts and utterly breathtaking complacency the chancellor is in complete denial about the central fact which is defining this government in office.
"That under this chancellor, under this prime minister, for most people in our country living standards aren't rising they are falling year on year on year," said Mr Balls.
But Mr Osborne responded: "As for denial, the man who said borrowing wouldn't come down, unemployment wouldn't come down, growth wouldn't happen... the man who refuses to apologise for what he did to the British economy? You are epitome of denial."
'A turkey'
The shadow chancellor struggled to be heard above the shouts of Conservative MPs as he rose to respond to the Autumn Statement - prompting the Speaker to intervene and call order.
Mr Balls claimed people would be worse off in 2015 than in 2010, and accused the government of giving with one hand and taking more away with the other.
He said cuts to tax credits and child benefit, and the VAT increase, had outweighed the benefits of the personal income tax allowance rise and fuel duty freeze.
He called on Mr Osborne to back Labour policies of levying banks and scrapping the winter fuel allowance for the richest pensioners to pay for jobs for young people, scrap the spare room subsidy, and expand free childcare.
George Osborne had earlier told the Commons that his economic plan was working, with growth up, borrowing down and the UK set to be back in the black by 2018-19.
He announced a range of new policies including plans for a married couples and civil partners tax break, which is set to cost about £700m a year and start in April 2015.
Mr Balls sought to open up reported dividing lines between David Cameron and the chancellor over the PM's "flagship" policy, seizing on claims in the Daily Telegraph that Mr Osborne thought the tax break was "a turkey of an idea" and would not benefit the people the PM said it would.
"A turkey," Mr Balls said. "The chancellor thinks the prime minister's policy is a turkey. Merry Christmas Prime Minister, Merry Christmas.
"I think on this one, the Chancellor is right - it is a turkey of an idea."
'The Cooperative chancellor'
Mr Balls claimed the government was being forced to borrow £198bn more than it planned because of Mr Osborne's "failed" economic plan.
He told MPs the country was "crying out" for a government that would build an economy "for the many", claiming the chancellor's policies were only benefitting the wealthy.
"This complacent chancellor sits there and think he deserves a pat on the back. And I have to say with bank bonuses rising and millionaires enjoying a big tax cut this is a policy which is working for a few.
"But as this Autumn Statement shows with the out of touch chancellor and prime minister hard-working people are worse off under the Tories," he said.
But Mr Osborne responded by saying it was "extraordinary" that Mr Balls could not "bring himself" to welcome improved economic forecasts.
Labour's "silence on the economy goes to the heart of their weakness", he said, insisting it could not talk about the deficit, infrastructure, housing or business rates because it has no policies.
Mr Osborne said: "You said you were going to be the Cooperative chancellor... That is exactly what you would be, borrowing more than you can afford, catastrophic management of the finances, deluded leadership, preaching one thing and doing another.
"It's hard working people who will pick up the price if it blows up again. You can't welcome the economic recovery because you are the biggest risk to economic recovery."