Labour fails to secure bookies' roulette machine rethink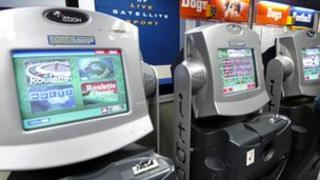 Labour has failed in an attempt to force ministers to restrict the stakes and prizes on roulette machines in bookmakers shops.
MPs voted to back a government decision to keep the maximum punters can bet per spin at £100.
Labour tried to cut the maximum stake to £2, arguing it would combat problem gambling and reduce the crime risk.
But the government's changes to gaming machine regulations were approved by 322 votes to 231, a majority of 91.
There was no debate in the Commons, with the result of the vote being announced by Speaker John Bercow.
Campaigners against the machines will now be pinning their hopes on a government backed review into the alleged harm they cause to punters and wider society, which is due to report in Autumn 2014.
Punters can gamble up to £100 every 20 seconds on the machines, which have led to an explosion in the number of bookmakers' shops on Britain's high streets.
Figures suggest gamblers wagered £46bn on them last year and that bookmakers made £1.55bn in profits from terminals between April 2012 and March 2013.
'Irresponsible'
Takings from the machines now account for nearly half of the big bookmakers' annual profits, despite being limited to four terminals per shop.
Fixed-odds betting terminals, often known as FOBTs, were included in a three-yearly review of the last Labour government's 2005 Gambling Act, which also covered fruit machines in pub and cafes, as well as high-stakes machines in casinos.
The Department for Culture, Media and Sport reported last month that it was "not clear how great an impact a reduction would have on gambling-related harm".
Labour MPs opposed moves to incorporate these findings into law.
Shadow sport minister Clive Efford said: "Despite a growing body of evidence that these machines are being located close to areas of deprivation and make a disproportionate amount of their profits from people with gambling problems, the government has failed to act.
"The betting industry has also acted in an irresponsible way by denying the evidence exists and consistently refusing to accept that there is a problem."
But a Department for Culture, Media and Sport source said: "The last Labour government introduced FOBTs and neither criticised them not curbed their use for eight years. Their approach is entirely hypocritical and opportunistic.
"This government is undertaking the most comprehensive study into machine use ever seen in the UK. If there is evidence of harm, we will act."
Culture Secretary Maria Miller last month ruled out calls to dramatically reduce the stakes and prizes on the machines, keeping the maximum stake at £100 and the maximum payout at £500.
The Liberal Democrats backed calls to give local councils the power to limit the number of betting shops in their area, in a party conference vote last month.