'Plebgate' PC Toby Rowland to sue ex-chief whip Andrew Mitchell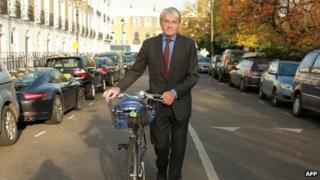 Toby Rowland, the police officer at the centre of the Plebgate row, is to sue the Tory MP and former cabinet minister Andrew Mitchell for libel.
PC Rowland was on duty at Downing Street when Mr Mitchell was prevented from bicycling through the main gate.
Mr Mitchell has admitted swearing, but recently accused any officer who maintained he had used the word "pleb" of "not telling the truth".
The officer stands by his account of the incident.
Former chief whip Mr Mitchell is suing the Sun newspaper, which first reported the incident, for libel and has challenged the PC to repeat his claims under oath in court "to allow a decision to be made between my account and his".
PC Rowland issued a letter of claim against Mr Mitchell, on Tuesday, in the wake of their differing accounts of what happened in Downing Street in September 2012.
Separately, in March Mr Mitchell launched a legal action against the Sun newspaper, which first published the Plebgate allegations.
It is understood that the officer was already considering legal action before Mr Mitchell said last week that he wanted Mr Rowland to give his account of the argument under oath.
A Police Federation spokesman said: "We can confirm that PC Toby Rowland yesterday issued a letter of claim for libel against Andrew Mitchell MP. This relates to comments he made following the media-termed Plebgate incident in Downing Street in 2012.
"It would be inappropriate to comment further at this time while there are ongoing legal issues."
The Crown Prosecution Service said in November there was insufficient evidence to show that PC Rowland had lied.