Charity Commission criticised by spending watchdog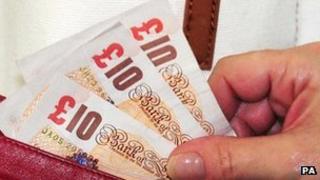 The Charity Commission has said it needs to up its game after a highly critical report by a spending watchdog.
The National Audit Office (NAO) said the commission was not tackling abuses of charitable status properly.
Public Accounts Committee (PAC) chairman Margaret Hodge said the commission had "tough questions to answer".
The NAO investigation followed a PAC report into The Cup Trust, a charity used by wealthy donors to avoid tax.
According to the NAO, the commission was failing to investigate abuses properly, wasting taxpayers' money and putting the good name of the charity sector as a whole at risk.
Budget cuts
Ms Hodge said: "The Public Accounts Committee asked the NAO to carry out this work earlier this year after our inquiry into the Cup Trust raised serious questions about whether or not the Charity Commission is fit for purpose. This report suggests it is not.
"People in this country are hugely generous in giving to charities but the failure of the Charity Commission to detect and tackle abuse effectively risks undermining public trust in the whole sector.
"The Charity Commission... have some tough questions to answer."
The commission oversees more than 160,000 charities in England and Wales. Its annual budget has decreased by 40% in real terms to £22.7m over the past seven years.
The NAO report said: "It does important and necessary work and its independent status is highly valued, but it does not do enough to identify and tackle abuse of charitable status.
"It uses its information poorly to assess risk and often relies solely on trustees' assurances. Where it does identify concerns in charities, it makes little use of its powers and fails to take tough action in some of the most serious cases."
Charity Commission chief executive Sam Younger told BBC Radio 4's Today programme it had been "too cautious" and was changing its approach.
"We need to up our game in identifying where serious wrongdoing is happening in charities and then move more swiftly than we have traditionally... and to deploy our powers."
But he said it was impossible to "individually invigilate" every charity and that it was unfair to extrapolate criticism of the body's broader work from the report.
"By 2016 the commission will over eight years have lost half its real income," he added, warning that it could not handle any more cuts "without something giving".
Problems emerged
The NAO report was prompted by revelations that The Cup Trust was operating a complex tax avoidance scheme on behalf of its wealthy donors.
Out of every £100 donated, just three pence went to good causes.
In a separate report, the NAO concluded the Charity Commission failed to check the Cup Trust met the legal requirements when it registered it as a charity and was then too slow to act when problems emerged.
Amyas Morse, head of the NAO, said: "The Charity Commission has responsibility for protecting the good name of the charity sector as a whole, as well as other specific duties.
"It is too passive in pursuing this objective and in making the case for the resources to allow it to do so effectively.
"We welcome the early plans for a reset of its approach and strategy being proposed by its new board and encourage them not to fall short of the radical change of pace and rigour which is evidently needed."
Maintain trust
The PAC heard evidence about the The Cup Trust case earlier this year. Mr Younger will appear before the committee of MPs this month.
Sir Stuart Etherington, chief executive of the National Council for Voluntary Organisations, said the commission had taken a "soft-touch approach" in even the most serious cases.
He said: "This report reflects what we have said for years. In order to maintain public trust, charities want a vigilant and effective regulator which takes prompt action in the rare instances of abuse."
A Cabinet Office spokesman said: "As the NAO notes, the commission should exercise the power it has more often."
But he also said the Cabinet Office would launch a consultation "to address any gaps" in the commission's legal authority.