Councils 'must be free to borrow more to build homes' - report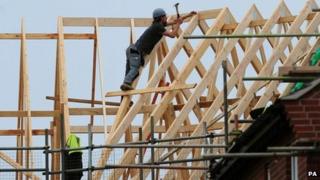 The government must allow councils in England and Wales to borrow more money to spend on building so they can tackle housing shortages, a report says.
The Local Government Association (LGA) said nine councils, with 40,000 people on accommodation waiting lists, were unable to take on any loans at all.
It said lifting a cap on borrowing would allow up to 60,000 new homes to be built in the next five years.
But the government said there was "no magic money tree".
It added there was still a need to cut public borrowing to improve the performance of the economy.
'Low-risk'
In 2012 the Treasury capped the amount councils could borrow against ring-fenced housing budgets, set at different levels for each area.
However, the LGA urged Chancellor George Osborne to use Thursday's Autumn Statement to lift the provision.
He should instead allow councils "to invest in housing under normal responsible borrowing guidelines", it said, adding that "the investment would be very low-risk and paid many times over by future rents on new homes".
Mike Jones, chairman of the LGA's environment and housing board, said: "There are millions of people on social housing waiting lists and councils want to get on with the job of building the new homes that people in their areas desperately need.
"Local authorities have excellent credit ratings and we want to use our assets to help kick-start the housing recovery, but our hands are being tied."
The LGA said the following authorities had been given no borrowing "headroom":
Darlington Borough Council
Dudley Borough Council
Exeter City Council
Gosport Borough Council
Harrow Council
Royal Borough Greenwich Council
South Cambridgeshire District Council
Waverley Borough Council
Woking Borough Council
Mr Jones said: "The chancellor has an unrivalled opportunity to use this Autumn Statement to create jobs, provide tens of thousands of homes and help the economy without having to find a single extra penny.
"New homes are badly needed and councils want to get on with building them. The common sense answer is for the Treasury to remove its house building block and let us get on with it."
Housing minister Kris Hopkins said: "As a lobbying organisation, the LGA need to realise that there is no magic money tree, and this government needs to cut public borrowing to keep interest rates down and ensure long-term economic growth.
"But under this government, the housing market has turned the corner, with house building now at its highest level since 2007, backed by up £19.5bn of public and private investment in affordable housing over the current spending review. The government will outline its broader approach in the Autumn Statement."