Chris Boardman says cycling safety MPs embarrassingly ignorant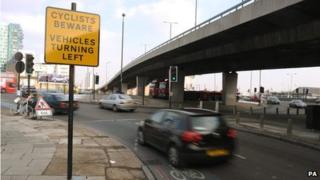 The Commons transport committee should be "embarrassed" by the ignorance it demonstrated during a recent hearing on cycle safety, former Olympic cycling champion Chris Boardman has said.
The MPs showed they "didn't even know the most basic of facts", Mr Boardman, British Cycling's policy advisor, said.
"Evidence and statistics were bypassed in favour of opinions and anecdotes on sideline topics," he continued.
But the committee vowed to produce a "balanced report" after its inquiry.
MPs are looking into cycling safety following a spate of fatal accidents. Six cyclists were killed in London during a two-week period last month.
'Negligent'
Among those testifying to the committee on Monday were journalist and London Mayor Boris Johnson's cycling commissioner Andrew Gilligan, and London Cycling Campaign chief executive Ashok Sinha.
Mr Boardman said: "The MPs that sit on the transport select committee should be embarrassed by their performance yesterday in an inquiry that was meant to be about why six people died riding bicycles on London's roads in the space of two weeks.
"In front of them sat experts from campaigning bodies, transport research and the police - all ready to get into a proper discussion - and yet the MPs demonstrated that they didn't even know the most basic of facts. Evidence and statistics were bypassed in favour of opinions and anecdotes on sideline topics."
Some commentators accused the committee of bias against cyclists, with the Guardian's Peter Walker tweeting: "This is like the home affairs select committee asking mugging victims about not going out at night and not dressing too smartly."
Mr Boardman continued: "Such a clear demonstration of lack of research and understanding at this level of seniority would, in any other business, be classed as negligent.
"This was an opportunity to discuss how we can make our roads fit for people to get around by bicycle, improving our nation's health, the environment and cutting emissions.
"This will deliver benefits for everyone, not just cyclists, and to do it we need to transform infrastructure, tackle dangerous junctions and encourage people to use bikes to get around."
Committee chair and Labour MP Louise Ellman said: "Yesterday's evidence session was only the start of an inquiry into cycling safety, at the end of which the committee will be seeking to produce a balanced report. Tomorrow we are taking oral evidence from the minister, Robert Goodwin.
"In addition to our oral evidence, we have received and published over 40 pieces of written evidence from a wide range of organisations which are available via the inquiry website.
"We welcome the opportunity to hear from Chris Boardman so I will be writing to him to invite him to meet the committee and to give oral evidence to us in due course. We look forward to him making an important contribution to this inquiry."