Use electric blankets to keep warm, says Conservative peer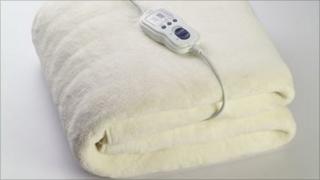 The government should encourage people to use electric blankets as a "simple, practical" way to cut down on heating bills, a Conservative peer has argued.
Baroness Rawlings said this was also environmentally friendly as blankets required little electricity.
Her comments came after the government announced a deal to alleviate increases to energy bills.
Minister Lady Verma said the coalition was working to ensure people did not pay "over the odds".
The government has said some subsidies for those in fuel poverty will be moved into general taxation and progress towards some green policy targets will be slowed down. It said this would cut energy bills by £50 a year for the average household.
'The answer'
In the House of Lords, Lady Rawlings, a former government whip, asked Lady Verma: "Have the government considered as a simple, practical measure encouraging people to use electric blankets?
"They are the answer to many of the government's aims. They are very green as they use little electricity and they reduce the need for so much heating in the home.
"They also make the home very energy efficient - ie costing less - which is what the government seems to have as an aim."
Lady Verma, who had repeated Energy Secretary Ed Davey's statement on the issue to peers, said: "As with all measures what we need to do is ensure that people are kept warm and kept safe but also that they are not paying over the odds for energy."
She added: "So I think there are measures in the statement, measures we are already doing, that will help consumers reduce their bills."
A Downing Street source said No 10 had nothing to add to Lady Verma's response.
Labour has promised to freeze energy bills for 20 months if it wins the 2015 general election, complaining that ministers have not done enough to protect consumers.
But Chancellor George Osborne, who will outline his plans in full during Thursday's Autumn Statement, has dismissed this pledge as a unrealistic and a "con".