Clegg pledges £250m extra for business lending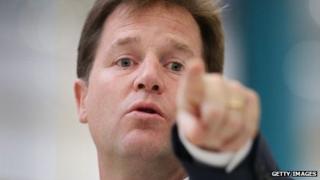 The government has pledged to put an extra £250m into the British Business Bank in a bid to help small and medium-sized companies benefit from the economic recovery.
Deputy Prime Minister Nick Clegg said the money, coming on top of £1bn last year, would allow greater funds for investment and taking on staff.
The bank, to be backed by government guarantees, will be based in Sheffield.
Mr Clegg, an MP in the city, promised to do "all we can" to help firms.
But Labour says the government's austerity package has damaged growth and that ministers have not done enough to ensure banks lend enough to small and medium-sized businesses.
The British Business Bank is in the process of being set up by the Department for Business, Innovation and Skills, and says it expects to generate more than £500m in new lending and investment for the UK's smaller businesses each year.
'Working hard'
Mr Clegg's announcement comes ahead of Thursday's Autumn Statement, in which Chancellor George Osborne will present the government's plans for the economy and growth predictions from the independent Office for Budget Responsibility.
He is expected to curb business rates as part of the package, as well as outline plans to reduce household energy bills.
Mr Clegg will say the British Business Bank will be able to leverage the capital and use government guarantees to lend much higher sums.
He and his fellow Liberal Democrat, Business Secretary Vince Cable, are due to outline the plans in more detail on a visit to a small business in west London later on Monday,
Mr Clegg said: "Small businesses are working hard to fuel our recovery and help us build a stronger economy.
"I am determined that we do all we can to help companies that have struggled to get the investment they need - investment that means they can employ those extra people, take on that new order, and buy new equipment."
Last week, The Bank of England announced significant changes to the Funding for Lending Scheme because of the surging housing market.
Governor Mark Carney it would no longer be aimed at householders but would be focusing instead on business lending from January.
For Labour, Chuka Umunna, shadow business secretary, said the government "has failed to get lending going to businesses, in particular smaller firms, with business lending falling by more than £12 billion in the last year".
"Now into their fourth year in office, scheme after scheme trumpeted by Ministers has failed to significantly improve access to finance for our wealth creators.
"Labour is backing plans for a proper British Investment Bank supported by a network of regional and local banks so that firms across Britain can get the finance they need to invest and grow."