Ed Balls not a nightmare at home, says wife Yvette Cooper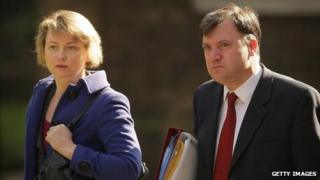 Shadow chancellor Ed Balls is "lovely" at home and does "all the cooking", his wife and fellow Labour politician Yvette Cooper has told the BBC.
In a leaked email published by the Mail on Sunday last month, one of party leader Ed Miliband's aides described Mr Balls as a "nightmare".
Prime Minister David Cameron recently joked in the Commons he could have told Mr Miliband that "three years ago".
But shadow home secretary Ms Cooper said attacks on her husband were wrong.
Mr Balls, one of the more combative senior politicians at Westminster, has had frequent run-ins with Mr Cameron in Parliament, where he has mocked the prime minister by swiping his hand through the air to suggest the economy is "flatlining".
Mr Cameron apologised last year after calling the shadow chancellor a "muttering idiot" at Prime Minister's Questions.
Ms Cooper, who married Mr Balls in 1998, was asked by host Andrew Neil on BBC One's Sunday Politics what it was like "living with a nightmare".
Laughing, she replied: "He does all the cooking. I can't complain about that. He's lovely."
Asked if the aide describing her husband as a nightmare was "wrong", Ms Cooper said: "He is."