Tim Yeo MP dropped by South Suffolk Tories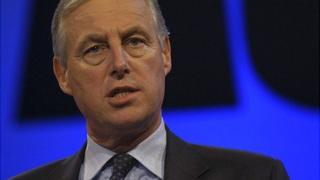 Conservative MP Tim Yeo has been dropped by his constituency party.
The decision was made by the South Suffolk Conservative Association in a secret ballot on Friday evening.
In a statement, the association said Mr Yeo was "now considering his position and will advise the executive council of his intended course of action".
Last month, Mr Yeo, who has been MP for South Suffolk since 1983, was cleared by the Parliamentary Commissioner for Standards of breaking lobbying rules.
The Tory MP was secretly filmed by Sunday Times investigators posing as representatives of a fictional energy company seeking to hire his services.
The paper said he had admitted telling a business associate what to say in evidence to the committee he chaired.
But the watchdog said the newspaper had used "subterfuge, misrepresentation and selective quotation" in its report.
Mr Yeo was one of 25 Conservative MPs who recently warned the prime minister not to ditch the party's environmental agenda.
Labour's shadow cabinet office minister Jon Ashworth said: "Tim Yeo's deselection is another sign that under David Cameron the Conservative Party is reverting to type, with no place for those who thought he meant it when he said, 'vote blue, go green'."
Mr Yeo, a former environment minister, had previously told the BBC that he intended to stand again in 2015.
If he does not accept the decision he can appeal or apply to be the new candidate when the selection process gets under way.
Mr Yeo is yet to comment.