Energy bills: Ministers not seeking 'price pledge'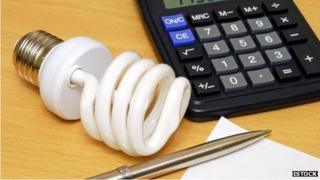 The government has denied reports it is seeking a commitment from energy firms to hold their prices down until 2015.
The companies told BBC News ministers had asked them to keep bills on hold so long as there is no significant move in global wholesale energy prices.
Government sources deny this, and say they are focusing instead on boosting competition and reducing green levies to cut annual bills by about £50.
Labour, which wants prices frozen, said government policy was a "shambles".
'Utterly misleading'
On Thursday, energy industry sources, including one of the "big six" energy suppliers, said they were being asked by the government to make a commitment not to raise prices - on the basis of government policies - until the middle of 2015.
Downing Street has said the story was "utterly misleading" and people should wait for next week's Autumn Statement by Chancellor George Osborne, who would spell out the government's plans.
Mr Osborne is looking at measures that could reduce annual bills by around £50 by relaxing the companies' environmental commitments and moving the costs of some green schemes from energy bills to general taxation.
Government sources have confirmed that they have been engaged in what they describe as an "information-gathering" exercise with the energy sector to find out what impact reducing green obligations would have on bills.
But they insisted they were not pleading, or negotiating, with the big six companies to hold bills down in the run-up to the 2015 general election, saying this was "not part of the package" on the table.
David Cameron, who is at a summit in Lithuania, said the government was sticking to its original plan on energy prices.
The prime minister said: "I want to help households and families by getting sustainably low prices, and the only way you do that is to increase competition and roll back some of the levies on people's bills.
"I've said that's what we're going to do and that is what we're going to do."
Labour, which has promised to freeze energy prices for 20 months if it is elected in 2015, said the government's policy was totally "confused".
Party leader Ed Miliband accused Mr Cameron of being a "weak and flailing prime minister".
More competitive
"What we now know is that while David Cameron has in public been opposing an energy price freeze, in private he has been pleading with the energy companies to get him off the hook," he said.
Labour is publishing its own plans to make the market more competitive by separating companies' retail and generation operations and giving a new regulator much greater enforcement powers.
The government has dismissed Labour's price freeze pledge as a "con" because governments cannot control the international price of gas.
As well as green and social obligations, the government is also looking at the cost of transmitting energy to homes. This makes up 23% of an annual dual-fuel bill.
According to the industry regulator Ofgem, electricity distribution costs will add £15 to an average bill over the next year, but flatten out thereafter.
Industry sources say the government wants that cost spread over a longer period.