Ed Miliband to pledge 'biggest energy market reform'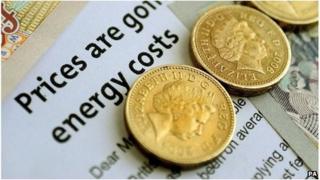 Labour would bring about the biggest reform of Britain's electricity and gas market since privatisation if elected, Ed Miliband is to say.
The Labour leader has promised a price freeze, and the restructuring of firms in a bid to increase competition.
Mr Miliband will pull together Labour's plans to change the energy market in what he is calling a "green paper".
The government has described the price freeze as a "con" and is working on its own plans to reduce bills.
Energy companies believe Labour's plans could have a detrimental effect on investment in future capacity.
Permanent basis
Mr Miliband will invite comments on his green paper from businesses and the public.
At his party conference, Mr Miliband pledged that if elected he would freeze gas and electricity bills for 20 months.
BBC political correspondent Iain Watson said the policy became popular with voters, but not the energy companies.
Opinion polls have suggested voters remain sceptical that Mr Miliband will deliver on his promise, and his critics in business and politics have said bills will go up after the price freeze is over.
Mr Miliband will argue that 15 other countries have price controls on energy costs, and Belgium has already introduced a temporary freeze.
But he also needed to convince bill payers that he could get costs down on a permanent basis, our correspondent said.
Mr Miliband will repeat Labour's pledge to force the big companies to split power generation from their retail businesses which he believes would encourage greater competition.
He says the existing regulator, Ofgem, would be replaced with a more powerful body that would force firms to pass savings in the wholesale market on to customers.
Devastating blow
In another development, the insulation industry has said more than 10,000 jobs will be lost if the government goes ahead with plans to halve the scope of its Energy Company Obligation (ECO) energy efficiency scheme.
The industry said it was previously told by government that the initiative would be funded with £1.3bn a year to 2022 - and the news was a devastating blow.
About £50 a year is added to the average energy bill to pay for the ECO scheme which obliges energy firms to insulate people's homes.
The companies have said the scheme is not targeted well and have lobbied to get it reduced.
It has been reported that a coalition deal has been reached to extend the scheme over four years instead of two years to bring down the levy on people's bills.
Energy efficiency campaigners said it made no sense to attempt to bring down bills by cutting back a scheme that reduces costs by insulating homes.
The insulation industry said mostly small local firms would be affected. The government said details of the move were still being discussed.
Meanwhile, the government has asked the big six energy firms to hold prices until the middle of 2015, barring any major increase in wholesale fuel costs.
Industry sources said the government wanted to avoid another round of price rises that could be blamed on green levies.