Devon and Cornwall points limit motorists spared ban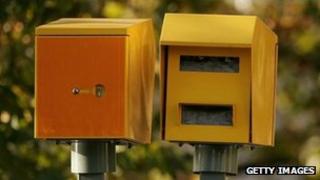 Nearly 100 motorists are driving around Devon and Cornwall with 12 or more points on their licence, it has emerged.
In a Freedom of Information response, the DVLA said 95 motorists had 12 points or more and one had 20 points without being disqualified.
Normally 12 points would lead to a ban, but magistrates can let an offender off, under exceptional circumstances.
In response, magistrates stressed motorists were not getting off lightly.
Pallet man's plea
The number of drivers banned in the region in 2012 was 2,344, compared with 1,987 in 2009.
Chris Hunt-Cook, of the Magistrates' Association, said: "The law has long recognised that disqualifying people from driving hits some people more than others."
Magistrates could take into account whether people, and not just the driver, would lose their jobs as a result of a ban.
"I had someone who had a very small business. He went round in a van collecting pallets," he said.
"He had someone working at a yard repairing the pallets.
"He got three points for speeding and another three for using his mobile phone.
"Unfortunately, a lady in the office forgot to renew his insurance so he got six points for not having any insurance."
'Exceptional hardship'
Despite reaching 12 points, when someone would normally be banned, Mr Hunt-Cook said the defendant proved that if this happened his business would fail.
"He could not afford to employ anyone else to drive the van," he said.
"So we did find it was exceptional hardship because three other people he employed would lose their jobs."
The DVLA said: "In a small percentage of cases where the driver has accumulated 12 or more penalty points, the agency understands that a court can exercise its discretion and not disqualify the driver.
"In the majority of these cases, magistrates may have decided to allow drivers to retain their entitlement to drive where it is considered that disqualification would cause exceptional hardship."