Councils meet 'austerity challenge' but risks remain, says watchdog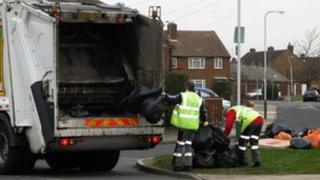 Councils in England have "risen to the challenge" presented by a climate of austerity by cutting staff and becoming more efficient, new research suggests.
The Audit Commission said 89% had delivered their agreed budgets in 2012-13 without major problems and were set to do so again this year.
But the watchdog warned the medium-term outlook for many councils was not rosy.
The Local Government Association said councils could not continue to "perform miracles" in the face of budget cuts.
Central government funding to local authorities has fallen by about £6bn during the past four years, equating to a nearly 20% fall between 2010-11 and 2013-14.
But in its annual review of the financial health of councils, the Audit Commission praised the way they had coped with the budget squeeze.
'Resilience'
It found 71% of councils had delivered their budgets without recourse to "unplanned actions", while two-thirds of local authorities had actually been able to supplement their financial reserves.
Financial information provided by more than 350 single-tier, county and district councils showed cuts to staff numbers, including senior management, and wage freezes had accounted for 48% of total spending reductions.
The watchdog said councils had shown "a high degree of financial resilience" but warned the financial challenges were set to continue and, in some areas, were likely to get worse.
One in 10 councils was likely to struggle to deliver its budget this year because of inadequate savings, growing cost pressures and "uncertain prospects for income" - in part due to a fall in council tax revenue.
Auditors also expressed concerns about the medium-term financial prospects of 36% of councils.
The report identified planning, culture and housing as the areas that had suffered the largest fall in funding to date although it did not analyse the impact of this on the delivery of services.
But it did warn of growing pressure on social care budgets as they took a greater share of the financial pain.
"As social care accounts for an increasing proportion of councils' total service spending, it will be harder to protect this service from spending reductions in future," said its chair Jeremy Newman.
"With less income, councils continue to face risks to meet their legal obligations and the needs of their local communities."
'Crunch year'
Councils in England face a further 10% cut in funding from central government as part of the coalition's spending plans for 2015-16.
The Local Government Association (LGA), which represents about 400 councils in England and Wales, said 2015-16 was likely to be a "crunch year" for pressure on council services.
"This report shows that councils have made a leading contribution to tackling the deficit and keeping the cost of living down but they can't be expected to perform miracles," said its chairman Sir Merrick Cockell.
The report, he added, vindicated the concerns of municipal authorities - particularly in the Midlands and the north of England - that they had been disproportionately hit by the government's policies.
Metropolitan district councils saw an aggregate budget squeeze of 22% over the period, compared with 16% for county councils.
"The report highlights a significant variation in the impact of the cuts at a local level," Sir Merrick added.
"It provides yet more evidence that the existing system of funding is too exposed to the vagaries of national politics and incapable of delivering the long-term certainty that local areas need to deliver consistently excellent services," he added.
'Financial peril'
Separate research from the Joseph Rowntree Trust has suggested that budget cuts have left councils in the poorest parts of England and Scotland around £100 worse off per person than the richest ones.
The LGA has called for councils to be given full budget autonomy to deal with the most pressing challenges affecting them, including growing demand for social and community care.
"Social services now take up half of council budgets and our aging population means that proportion is only going to grow," Sir Merrick added.
"Until that is addressed, councils in many areas are going to face increasing financial peril and the very real prospect of being unable to deliver some of their non-care statutory services.
"The enormous pressure this is placing on the system means that even those councils not responsible for social care take the hit."