John Bercow bids to upgrade Parliament to 'version 2.0'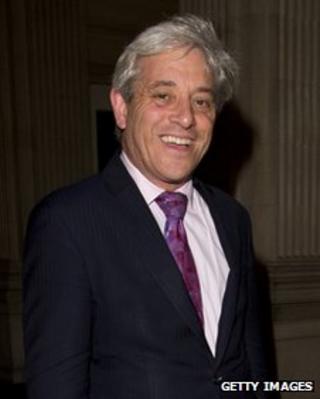 Commons Speaker John Bercow has launched a special commission on "digital democracy", saying it could pave the way for online voting and "e-dialogue" between MPs and constituents.
In a speech in London, Mr Bercow said what he envisaged was "nothing less than a Parliament version 2.0".
High-profile technology firms will be asked to give evidence to the body - whose members will be announced soon.
The commission is expected to report before the general election in 2015.
Speaking to the Hansard Society, he said: "I am announcing today the creation of a Speaker's Commission on Digital Democracy, the core membership of which will be assembled in the next few weeks, supplemented by a circle of around 30 expert commissioners and reinforced I hope by up to 60 million members of the public.
"This exercise will start in early 2014 and report in early 2015, a special year for Parliament as it will be the 750th anniversary of the de Montfort Parliament, along with the 800th anniversary of the Magna Carta, the document that set the scene for the 1265 Parliament to come later.
"Digital democracy will have some universal features but others which vary nation by nation. It is yet another change which pushes against formality and for flexibility.
"Its elements might include online voting, e-dialogue between representatives and those represented, increased interconnectedness between the functions of representation, scrutiny and legislation, multiple concepts of what is a constituency, flexibility about what is debated when and how, and a much more intense pace for invention and adaptation."
Expenses as 'displacement'
But he cautioned about the "digital divide" separating affluent internet users from those less able to communicate via new technology.
"A digital democracy should not reinvent the divide in franchise of the 19th century in a new high technology form," he said.
He contrasted his vision for the future with the status of Parliament before his tenure as Speaker, when the commons resembled "a cross between a rubber stamp and a talking shop".
"The blunt truth is that the expenses debacle was a particularly embarrassing layer of icing on an especially unappetising cake," he added.
MPs had "taken to collective activity such as the imaginative interpretation of what might be a legitimate expense claim as much as an odd form of displacement activity as out of any shared sense of malice or corruption", Mr Bercow said.
"Parliament appeared to have been reduced to the status of a small green room in which men, overwhelmingly men, shouted at each other for relatively short periods of the working week and then disappeared from sight thereafter to do Lord knows what."
But, he argued: "It turns out that in the spirit of Dr Who the parliament elected in 2010 has not been about death but about regeneration.
"It strikes me that three factors best explain the resuscitation of the House of Commons over these past three years. They are: procedural change; fresh blood; and the novelty of coalition government."