Andrew Mitchell loses 'plebgate' libel costs challenge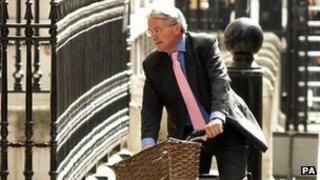 Andrew Mitchell has lost an appeal in his "plebgate" libel action against the Sun, meaning it will not have to pay his full legal fees if he wins.
In a landmark ruling, the Court of Appeal limited the recoverable costs of the MP's legal team to court fees only.
The order was made after Mr Mitchell's lawyers missed a deadline for submitting their £506,425 budget.
Mr Mitchell is suing the newspaper over claims he swore at police officers in Downing Street and called them "plebs".
The former chief whip told BBC News the court's ruling would not affect his libel action against the paper, which first reported the allegations.
It is the first ruling under Lord Justice Jackson's reform of litigation costs, which came into effect in April, imposing a tough new budgeting regime.
'Clear message'
Mr Mitchell launched his case against the Sun - which first printed the "plebgate" claims - in March, and High Court Master Victoria McCloud arranged a hearing in June.
The Tory MP's lawyers, Atkins Thomson, should have filed their costs budget with the court not less than seven days before the hearing, but in fact they only arrived the day before.
This meant the hearing had to be rescheduled and took the place of another hearing which had been arranged to deal with claims by people affected by asbestos-related diseases.
Master McCloud then ordered that Mr Mitchell's budget for costs in the case should be restricted to the "applicable court fees".
On Wednesday, Mr Mitchell's appeal against the High Court's order was rejected at the Court of Appeal by Master of the Rolls Lord Dyson, sitting with Lord Justice Richard and Lord Justice Elias.
Lord Dyson said courts now had to take a more robust approach to legal teams who did not meet their obligations under the Jackson reforms.
He said that while the ruling might seem harsh, the attempt to change the culture of legal teams meeting deadlines would have suffered "a major setback" if they had allowed the appeal.
"In the result, we hope that our decision will send out a clear message. If it does, we are confident that, in time, legal representatives will become more efficient and will routinely comply with rules, practice directions and orders," he added.
The "plebgate" dispute occurred when Mr Mitchell was stopped from cycling through Downing Street's gates in September last year. He admits swearing during the incident but denies it was directed at the officers or that he called them plebs.
On Tuesday, the Crown Prosecution Service said there was insufficient evidence to show the officer on duty at the time, PC Toby Rowland, lied.
Mr Mitchell has insisted he wants to continue with his libel case and challenged the PC to repeat his claims under oath in court "to allow a decision to be made between my account and his".