Nigel Farage 'getting fit' for EU elections after neck operation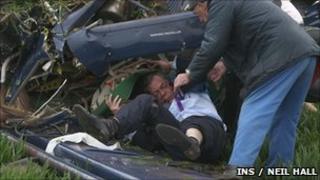 UKIP leader Nigel Farage has said he is recovering from a "very major operation" and will be "relatively out of action for a few weeks".
Mr Farage suffered back injuries sustained in an air crash on election day 2010, and had had "a couple of discs removed from my neck and replaced" last week, he told the BBC.
"I shall get myself fit and strong for the EU elections next year," he said.
UKIP was also a "serious contender" for seats in the UK Parliament, he added.
"I'm feeling pretty sore," Mr Farage told the Today programme, having had "bone grafts, and all the rest of it".
"It's an operation that had to happen, the surgeons are happy with it, and so am I," he continued.
Asked if he planned to continue leading the party, he replied: "Absolutely."
UKIP would seek to make the 2014 elections to the European Parliament a "referendum on open borders", he said.
He also suggested that his party might get its first seats in the UK Parliament at the general election in 2015, and argued it was not just taking votes from the right wing of British politics.
"This whole analysis that the UKIP vote purely damages the Conservatives' chances simply isn't true," he said.
"UKIP is getting itself now into a position in some of the marginals where it is a serious contender to win seats in Parliament, and not just split them.
"If you go to the midlands and north, and if you look at what happened in a series of by-elections, in Rotherham, in Barnsley, in Middlesbrough and so on, you will see UKIP emerging as the challenger in the north of England to the Labour Party, and the Conservative Party, frankly, without any hope of winning those seats."
He also predicted that Labour would shift its position on the EU dramatically in forthcoming months.
"I have absolutely no doubt that in the run up to the European elections we will hear a speech from Ed Miliband" pledging to hold a "referendum on the European question", he said.
Mr Farage concluded: "The whole political scene is changing; it's changing because of the strength of UKIP, and I'm pleased about that."