North and Midlands councils 'hit hardest by cuts'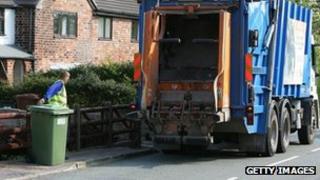 Councils in the North of England and the Midlands face being hardest hit by government funding cuts, a group representing local authorities says.
The Special Interest Group of Municipal Authorities says councils in the North East will lose £665 per person an average between 2010 and 2018 compared to a loss in the South East of £305.
Its estimates take into account the impact of welfare changes.
Ministers say funding is "fair" and the report was a "crude lobbying exercise".
In December, the government will tell councils in England how much money they will get next year.
SIGOMA, which has 45 members, represents many of the big urban councils in England, the vast majority Labour run.
It has looked at the potential impact on all councils and says new funding structures and the welfare reform changes mean areas with the "greatest need are facing the highest level of cuts" and are losing out on hundreds of pounds per resident.
According to the group, the "large disparity in funding is putting some councils at breaking point, and means that any economic recovery may bypass parts of the UK".
The average loss to councils per person in England by 2018 was said to be £487, with those in the East Midlands facing a loss of £535 and in the West Midlands, £571.
Sir Steve Houghton, chair of SIGOMA and Labour leader of Barnsley Council, said the report shows the government's "complete disregard for the mounting pressure faced by certain councils and the pain it is causing their residents".
He said: "The government must make fair funding a key priority to allow councils to provide essential services without the growing distraction of a service failure."
The report will be the first of several highlighting the pressure on finances, particularly in the cities of the North of England and the Midlands, says BBC News local government correspondent Mike Sergeant.
Local government minister Brandon Lewis said the calculations were designed to "scaremonger" and council funding by central government did not favour any one area.
Ministers says changes in the way local government funding is calculated take into account how many older people live in a location, how rural it is, and social needs.