The rush to turn offices into flats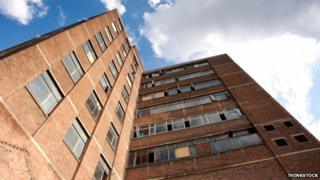 It was billed as a clever wheeze to create new homes - but could scrapping planning rules turn out to be a major miscalculation?
There is something uniquely depressing, chilling even, about empty office blocks. The way they loom silently over us as we hurry past on the way to work or the shops, the wind whipping at our legs, reminding us of gloomy economic times.
They are not, on the face of it, places where you would pay good money to set up home, even if they have been given a makeover.
Yet thanks to controversial changes in the planning system in England, that is precisely what thousands of us will be doing over the next few years.
Developers have long coveted these relics of recession, but their efforts to convert them into flats has been frustrated by local authorities hoping to keep them as they are, ready for new businesses to move in when the good times return.
That all changed in May when the government scrapped planning permission for converting them into flats for the next three years.
Planning Minister Nick Bowles claimed the move would create 130,000 badly-needed new homes, using up 5% of vacant office space.
Officials at the Department for Communities and Local Government were far more cautious, suggesting it might result in as few as five extra conversion projects a year across the whole of England.
The early signs are that they were both wrong - and there is something of a bonanza brewing, in London and the South East of England at least.
In one London borough, Richmond, 107 schemes which will create hundreds of new flats, have already been given "prior approval" since the new rules came into force in May.
DCLG officials estimated a maximum of 175 office-to-residential changes in the first year, but research by Planning magazine in the summer found 46 councils had already received more than 260 applications between them.
"It remains to be seen how many of these offices, having had permission to do so, are actually converted into homes," says reporter John Geoghegan, who carried out the research.
"But the level of interest among developers, particularly in London, is clearly higher than the government anticipated."
London's booming property market has already led to hundreds of former shops, pubs, offices and factories being converted into luxury houses and apartments.
Now many local authorities fear the new rules will accelerate this trend, forcing out businesses and robbing local people of employment opportunities.
Labour-controlled Islington council in London says 17,000 square metres of office floor space have already been lost, much of it occupied rather than vacant, adding up to the equivalent of 1,400 jobs.
"The danger is you end up with a dormitory situation, with more people forced to commute for work, which is environmentally unsound and changes the character of the area," says David Linnette, Conservative chairman of Richmond Borough Council's planning committee.
Richmond was one of a group of local authorities, including Islington, to unsuccessfully challenge the new rules in court.
The councils believe they have been unfairly robbed of what has traditionally been one of their core functions. Half the local authorities in England applied for an exemption from the new regime, but only 17 succeeded.
"Where is the spirit of localism in this?" says Mr Linnette.
"It is not as if we are dinosaurs, sticking our head in the sand, all we are asking is that we are able to make up our minds locally about this."
London Mayor Boris Johnson managed to gain exemptions for some areas including the City of London, seen as being of national economic importance, and the West End, where he wanted to preserve the "rich" social mix that is already being threatened by soaring property prices.
No one, Johnson included, doubts the need for new housing - if the number of households in England continues to increase at the current rate supply will outstrip demand by 750,000 by 2025.
And some argue that some of the office blocks being targeted by developers, drab, rundown 1960s and 1970s towers that have been standing empty for years, are unlikely to have been used as offices again, even if the economic boom times return. Why not put them to good use?
Planning Minister Nick Boles said: "This common sense planning reform is delivering badly needed new homes on brownfield sites in our towns and cities, at no cost to the public purse.
"Increasing the resident population of town centres means local shops and other businesses benefit from people living close by.
"Those who oppose this measure need to explain exactly where they want new badly-needed homes to go."
The Green Party's Jason Kitcat, leader of Brighton and Hove council, argues that the new rules will have precisely the opposite effect to that claimed by the minister.
"Office workers would no longer spend money in the shops at lunchtime. Everyone living there has to travel to work so the area will come to life on Friday and Saturday but for the rest of the week it will be dead."
Mr Kitcat, whose council is among those continuing to fight for an exemption, said local authorities should be allowed to start building houses again instead.
"Even if every office in the city centre was converted into flats, it would do nothing to ease the housing shortage," he told BBC News.
There also concerns about the quality and price of the new homes being created.
Some argue that converted offices with no balconies or gardens may be ideal for developers looking to make a quick buck but are not suitable for families to live in.
Developers no longer have to include affordable housing as part of their plans or jump through some of the other planning hoops traditionally demanded of them.
Stuart Robinson, head of planning at commercial real estate firm CBRE, said many of the locations and buildings were inherently unsuitable for housing and it would only be the less reputable developers that would want to get involved with schemes that did not go down the normal route for planning permission.
And, as a result, some projects could end up as the "slums of tomorrow" with no attempt by the developers to provide the necessary facilities like car parking, shops and amenity space, as they would be expected to do under the traditional planning regime.
"The danger is you get back to a situation that led to the introduction of planning controls in the first place," he said.
But he also suggested that some local authorities had brought the changes on themselves by being so obstructive towards developers in the past.
In his Autumn statement, Chancellor George Osborne announced plans for a further liberalisation of the planning regime in England, potentially scrapping planning permission for change of use from shops to restaurants or assembly and leisure uses.
The government insists it has "no plans" to continue allowing offices to be converted into flats without planning permission after 2016, when the rule change expires.
Some planning consultants believe there is a good chance the change will become permanent. Whatever the case, it is a change which will already have left its mark on England's urban landscape, which may never be quite the same again.