What next for Andrew Mitchell after 'plebgate' inquiry?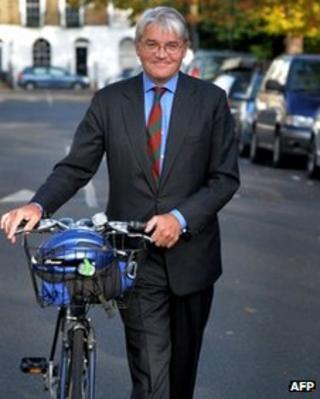 When Andrew Mitchell left Downing Street, by a side gate, in September last year, he didn't realise he was embarking on a journey to the backbenches.
The way in which the then chief whip expressed his disappointment at not being permitted to leave by the main gate has proved hugely controversial.
Once a police account of the incident was leaked, Andrew Mitchell maintained that he swore in front of police officers - for which he has subsequently apologised.
But he has always denied swearing at and calling the officer - and his colleagues - "plebs", a politically toxic, career-finishing phrase.
And when CCTV footage from Downing Street was aired on Channel 4 last December, his supporters said this proved there had been no time for the then cabinet minister to have launched a tirade against the police before wheeling his bike into the street.
The subsequent police investigation - Operation Alice - had entered a looking glass world, according to Mr Mitchell's allies.
It should have been a short, sharp inquiry but it waded through 1,100 statements and after a year, friends of Mr Mitchell from across the political spectrum called for it to be brought to a swift conclusion.
Calls went up, too, for Andrew Mitchell's return to the cabinet.
But Tuesday's events may have made this less likely.
While Mr Mitchell's family say he has suffered a "character assassination", the Crown Prosecution Service's conclusions still leave him a little politically wounded.
'Insufficient evidence'
Their statement suggests that the Downing Street CCTV footage had been edited and didn't show 'the full picture'. Channel 4 are challenging the CPS to prove this.
The CPS maintain that Andrew Mitchell could have had time to utter the offensive phrase, and that there is "insufficient evidence" to prove that the officer on the Downing Street gate lied.
That officer - PC Toby Rowland - will not be charged with misconduct, and is not facing any disciplinary action.
Furthermore there is a suggestion in the CPS statement that Andrew Mitchell may have behaved improperly by even requesting that the main Downing Street gate be opened for him.
In their statement, the CPS say: "A legal order made in 2008 because of the fear of terrorist attack means that no-one may use (Downing) street unless they are authorised or directed by a police officer. Officers were instructed only to open the main gates for motor vehicles and there was a publicised policy to that effect."
And they conclude that there was insufficient evidence that there was a conspiracy against the former chief whip.
But what might make it trickier for him to resurrect his political career quickly is his reaction to the CPS's findings at a press conference on Tuesday.
He could have, once again, maintained that he did not use the term 'pleb', pointed out that a total of seven police officers were facing disciplinary action of one kind or another, and suggested that voters make up their own mind as to who was telling the truth.
'Raised the stakes'
But he raised the stakes by accusing PC Rowland of lying. He suggested there had indeed been a wider conspiracy by some in the Police Federation to "toxify" the Conservative Party for political ends.
And he drew attention to his libel action against the Sun - the paper which broke the 'plebgate' row. He said that he would give evidence on oath and challenged police officers to do the same.
So if David Cameron were to return him to high office, then he could be seen to be putting two fingers up to the long arm of the law. That is something governments are wary of doing.
But his close ally, the former shadow home secretary David Davis, takes a different view.
He points out that Andrew Mitchell was never sacked by David Cameron - he resigned voluntarily when it was clear the clamour over the case would make it difficult for him to carry out his job.
The prime minister had never assumed guilt, and had accepted Mr Mitchell's account of the incident.
Indeed, David Cameron had written to him on his departure to say: "I hope that, in time, you will be able to make a further contribution to public life."
While only one police officer is facing prosecution - Keith Wallis, who is alleged to have falsely claimed to have witnessed the incident - the fact that others are facing internal disciplinary charges demonstrates, says Mr Davis, that "something was clearly going on".
Career prospects
He is determined not to let the matter rest and believes it would be an "important signal" for the prime minister to return Andrew Mitchell to high office.
And Mr Mitchell himself has said he has an "understanding" with the prime minister about his future.
With no reshuffle in the offing, the prime minister will have time to take the temperature again at Westminster, when the current furore subsides, before deciding on Mr Mitchell's career prospects.
A well-placed Conservative source suggested the mood on the backbenches would require the PM to "do something at some point".
The sources said a cabinet position would be inflammatory, an EU commissioner role would be unlikely, so possibly a ministerial role outside cabinet would be acceptable to both sides - or perhaps some role as an envoy - there would have to be a recognition that the former chief whip would not be left entirely out in the cold.
But one thing has been achieved by the year-long row.
There is now sufficient doubt about the language Andrew Mitchell used that it has become difficult for his political opponents to assert that "Tory toffs" look down their noses at the police officers who are paid to protect them.