Noisy protesters outside House of Lords 'making peers ill'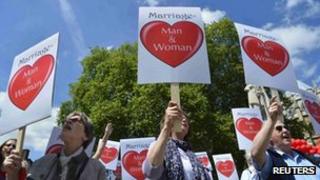 Noisy protests outside the House of Lords are making some peers "physically ill", it has been claimed.
A minister said some peers had had to "evacuate" their offices because of the use of amplified music and loud hailers in the vicinity of Parliament.
Lord Taylor has offered to meet with the Metropolitan Police and Westminster Council to discuss the problem.
Tory peer Lord Deben wants a ban on noisy protests in Parliament Square to be extended to outside the Lords.
Legislation passed in 2011 outlawed the unauthorised use of amplified music during protests in Parliament Square and gave local authorities the powers to seize equipment and deal with "displacement activity".
It did not cover nearby areas directly opposite the Lords where protests are also commonly held - but ministers say by-laws already exist to deal with "disruptive activity" there.
But during a debate on the government's anti-social behaviour, crime and policing bill, the former Conservative Cabinet minister Lord Deben said these rules were not being enforced.
While insisting he did not want to restrict anyone's freedom to protest, he said some protests were so noisy that they made work in the Lords "almost impossible" and peers deserved "protection".
In response, Home Office minister Lord Taylor said councils had powers to deal with unacceptable noise levels and the "gross disturbance" they caused but would seek and raise the matter with the authorities.
"I fully recognise the degree of distress caused by the repeated use of musical instruments, loud hailers and amplifiers in the areas adjourning the House and the disruptive effect it can have," he said.
"I have been told of peers evacuating their offices to work elsewhere and another who was made to feel physically ill as a result of the noise. This cannot be tolerated."