Iran: UK to leave 'no stone unturned' to get nuclear accord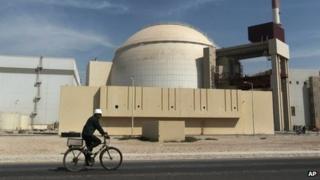 William Hague says the UK and its allies will leave "no stone unturned" to reach a lasting deal on curbing Iran's nuclear programme.
The interim deal was a "significant step towards enhancing the security of the Middle East and preventing nuclear proliferation worldwide", he told MPs.
Iran agreed on Sunday to curb some of its nuclear activities in return for £4.3bn ($7bn) in sanctions relief.
The US has welcomed the move but Israel has called it a "historic mistake".
Following days of talks in Geneva, Iran agreed to give better access to inspectors and halt some of its work on uranium enrichment for a six-month period - expected to begin at the end of January.
'Good faith'
Mr Hague told the UK parliament that the agreement would result in Iran's nuclear programme being "frozen" and, in certain areas, "rolled back" so that it could not make progress on the areas of greatest concern - such as enrichment of high-grade uranium.
He described Sunday's agreement as "important, necessary and completely justified" - adding that it would have been a "grave error" for the international community to shun progress on such an important issue.
While future negotiations would continue to be difficult and protracted, he said the progress that had been made should "give heart" to hopes of a lasting deal over the coming months.
"We are right to test to the full Iran's readiness to act in good faith, to work with the rest of the international community and to enter into international agreements," he said.
"If they do not abide by their commitments they will bear a heavy responsibility."
He warned anyone seeking to "undermine" the agreement - both inside and outside Iran - that this would not be tolerated.
The international community's approach to lifting sanctions would be "proportionate and limited", he said, with restrictions eased on sales of petrochemical, gold and precious metals.
'Blackmail'
Existing sanctions on oil and gas, travel restrictions on members of the Iranian regime and asset freezes, would remain in place and be robustly enforced until a "comprehensive" agreement was reached.
Tehran has claimed the deal recognises Iran's "rights" to enrich low-grade uranium but the international community disputes this.
For Labour, Douglas Alexander praised the role played by EU foreign policy chief Baroness Ashton in negotiations and said the interim deal would give the "time and flexibility" to reach a lasting agreement.
"This is not a perfect deal, nor is it guaranteed to lead to a comprehensive resolution. But, based on your statement to the House today, it appears to address a number of central concerns."
But Conservative MP Sir Edward Leigh said the agreement would permit Tehran to continue enriching uranium of up to 5% while effectively "pocketing $7bn".
He suggested there was nothing to stop what he described as a "terrorist regime" from "blackmailing" the international community at the end of the six-month period.
Fellow Conservative and chairman of the foreign affairs committee Richard Ottaway urged Mr Hague to reassure Israel and Saudi Arabia that their security would not be threatened by a rapprochement with Iran.
"There are elements in both countries which believe they have an existential fight on their hands, which will only get tougher with a more confident Iran," he said.
"Will you agree that we have duty of care to these allies and we have a long way to go in persuading them that this agreement is in their best interests?"