Laura Sandys to stand down as Conservative MP in 2015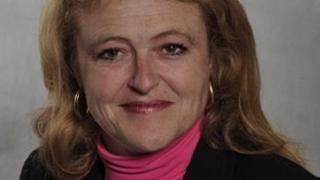 Conservative MP Laura Sandys has announced she will stand down as an MP at the general election in 2015.
Ms Sandys has represented the Kent constituency of South Thanet since 2010, when she had a majority of 7,617.
In a statement on her website, she said "a wide range of family demands" meant that she would be unable to deliver "the level of dedication and service needed" as an MP.
Her neighbouring MP Sir Roger Gale said he was "deeply saddened" by the news.
"It is with great sadness and regret that I wish to announce that I will not be standing at the next general election in 2015," Ms Sandys said.
"For the last six months I have been considering my future in light of a wide range of family demands and have decided that I cannot combine the level of dedication and service needed for the constituency with my growing personal responsibilities to those closest and dearest to me.
"It has been a difficult and heart-wrenching decision to make as there is no greater honour and privilege than representing the constituents of South Thanet.
"The people of South Thanet are an inspiration to me with their dedication to our communities, their strength, their steadfastness and their sense of identity.
"I wish to assure you that between now and the next election I will work tirelessly to achieve more for our wonderful area, making representation for our causes, supporting community groups and taking on individual cases on behalf of residents."
Her years as an MP had been the "most memorable" period of her life, she added.
Sir Roger, the MP for North Thanet, said: "I am deeply saddened that, for wholly understandable domestic reasons that I appreciate and respect, Laura has decided not to offer herself for re-election as the Member of Parliament for South Thanet.
"Laura moved to Thanet and threw herself into the task from the moment of her selection to fight the 2010 General Election. She has worked absolutely tirelessly in the cause of the people that she has sought to represent so diligently."
Richard Rowson, Chair of the South Thanet Conservative Association, said it was a "great loss" to the community.
"The normal selection process for our prospective parliamentary candidate will shortly be underway, and I am confident that this association will soon have in place a first rate candidate who will be able to carry forward Laura's brilliant work on behalf of the people of Thanet," he added.