Rising deafness figures worry NHS minister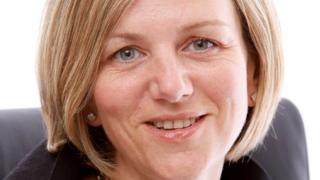 Is there no end to the budget pressures on the NHS?
Health ministers constantly remind us that a rising elderly population requires new thinking on how future services will be delivered.
That may explain why the government has gone out to consultation on the latest manifestation of an ageing population.
It coincides with new figures that will shock and surprise you: There are now an estimated 10 million people with hearing loss, and that figure is increasing fast.
It's a concern recently highlighted in a House of Commons debate by the Nottingham South MP Lilian Greenwood.
'Hit and miss'
"One in six people in the UK experience hearing loss, and seven in 10 can expect to be affected by the time they reach their 70th birthday," she told MPs.
Research by the campaign group Action on Hearing Loss found that adults who lose their hearing tend to withdraw from social activities and can become cut off from others.
Deafness and the inability to hear properly can also lead to all sorts of practical difficulties, according to Action on Hearing Loss.
Couples are unable to communicate properly, which can cause damage to personal relationships. Travelling about on public transport becomes a problem when unable to hear announcements.
"The debate among policy makers focuses mainly on quality-of-life issues, but failure to address hearing problems has implications for society as a whole," Ms Greenwood added.
So what's the answer? Diagnosis of hearing loss among adults can be a hit-and-miss affair, since many are reluctant to seek help and can wait years before seeing their GP.
"Earlier diagnosis is essential to ensuring that people with hearing loss can access the support and services that can help them best manage their condition," she added.
"A hearing screening programme for people aged 65 would help to overcome some of the barriers that prevent people from addressing their hearing loss."
The government is sympathetic. But an earlier move to set up a national screening programme was blocked in 2009.
It was thought at that stage there was insufficient evidence to prove its need.
Now Health Minister Norman Lamb, a Liberal Democrat, has ordered a public consultation.
"We have also asked NICE (National Institute for Health and Care Excellence) to produce clinical guidelines and related quality standards for the assessment and management of adult-onset hearing loss," he told MPs.
"We have to take hearing loss seriously, which is why we are currently looking to develop the action plan on hearing loss.
"The action plan will identify key actions that will make a real difference in improving health and social care outcomes for children, young people and adults with hearing loss and generally improving the hearing health of the population."
Action speaks loud than words, they say. This issue highlights just one aspect of the complexity of public health policy for an ageing population... especially when NHS budgets are tight.