Historic Commons floor tiles should be sold off, say MPs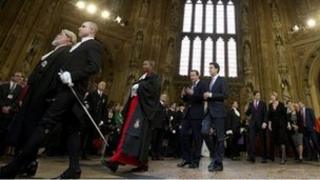 Old floor tiles from the Palace of Westminster should be sold off "like bits of the Berlin Wall" to boost Parliament's income, MPs have said.
One MP said they could be marketed as the "floor on which Disraeli and Gladstone and Churchill walked".
Commons Administration Committee chairman Sir Alan Haselhurst said he was open to the sale of replica tiles.
But not the originals as they may contain "noxious substances" and have sharp edges, he added.
Parliament has been seeking to boost the income it receives from tourists, to save taxpayers money and pay for renovations.
Conservative MP Greg Knight said he had been shocked to see old tiles in St Stephen's Hall being ripped up and thrown away instead of "marketed for sale".
Echoing his call, fellow Tory MP Bernard Jenkin said: "It does seem to me an opportunity to market tiles on which [Benjamin] Disraeli and [William] Gladstone and [Winston] Churchill walked has got more appeal than a new tile.
"We buy bits of the Berlin Wall, for goodness sake, which have got sharp edges on.
"I don't know what noxious substances are in these tiles but it does seem to me a little extreme, that precautionary approach taken to an unnecessary extreme, in this case that we're not exploiting this resource for the House."
'Cross-examination' training
Sir Alan said it would be "reckless" to sell off tiles that could contain asbestos.
Mr Jenkin also said, during a debate on the finances of running the House of Commons, that giving free iPads to MPs had saved taxpayers about £1m a year, as MPs' staff "no longer spend hours photocopying, collating and sending out through the post vast quantities of paper".
The Conservative MP, who is chairman of the Public Administration Select Committee, also welcomed training to teach MPs how to better question witnesses appearing before select committees, adding he would be going on another "away day" this month.
Select committees, which spend most of their time examining the work of government, have faced claims their members lack the forensic skills to cross-examine high profile witnesses, who have included Rupert Murdoch over phone hacking and former Barclays chief executive Bob Diamond on the Libor interest-rate fixing row.
Mr Jenkin said the backbench MPs who sit on the committees were now being trained "in the art of cross-examination".
Tory MP Geoffrey Clifton-Brown said the budget for an education centre to be built in Victoria Tower Gardens, on the banks of the Thames next to the Palace of Westminster, had been cut from £86m to £6.1m.
The annual running costs would be about £1.5 m, but it would host 155,000 school children at least every year, MPs were told.