Timeline: Flowers, Labour and the Co-op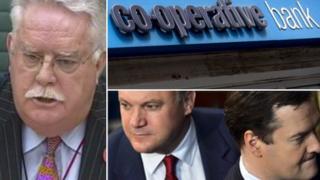 The former chairman of the Co-op Bank, who has been at the centre of a fierce political row, has pleaded guilty to possessing drugs including cocaine.
The Conservatives say Paul Flowers was closely involved with Labour. Labour argues the government did too little to scrutinise the Co-op Bank's doomed attempt to take over hundreds of Lloyds Bank branches.
So, what is Mr Flowers' background and what are the key events in the continuing controversy?
1976
Paul Flowers, a Bristol University theology graduate, starts work as a Methodist minister in Bradford.
1988
Mr Flowers is elected a Labour councillor in Rochdale, serving until 1992.
2002
He is elected a Labour councillor in Bradford.
2004
Mr Flowers resigns as a trustee of the drugs charity Lifeline after allegedly lodging false expenses claims. The matter is referred to the Charity Commission.
2005
Mr Flowers refers himself to the local authority watchdog, the Standards Board for England, for sending a "joke" message to council colleagues that was alleged to have had "sexual connotations", according to the Daily Telegraph.
1 August 2009
The Manchester-based Co-op Bank, part of the mutually owned Co-Op Group, merges with the Britannia Building Society, taking on its bad property loans.
February 2010
Mr Flowers, appointed to the Co-op Bank's board in 2009, attends a Downing Street reception, at which future Labour leader Ed Miliband is present.
April 2010
Mr Flowers is appointed chairman of the Co-op Bank and vice-chairman of the Co-op Group. His salary is £132,000 a year.
July 2011
The Co-op Bank announces an interest in bidding for 632 branches of Lloyds Bank.
September 2011
Mr Flowers resigns as a Labour councillor in Bradford after adult content is found on his council laptop.
31 March 2012
The Co-op Group donates £50,000 through the Labour Party to support shadow chancellor Ed Balls's office.
April 2012
The Financial Services Authority (FSA) tells the Co-op Group it does not have enough capital to be allowed to expand by buying the Lloyds branches.
July 2012
It is announced that, contrary to the FSA's earlier advice, the Co-op Group has emerged as the preferred new owner of the Lloyds branches, in a £750m deal. This happens despite the Co-op not raising any extra capital, according to the BBC's Robert Peston.
Chancellor George Osborne says the planned expansion of the Co-op Bank will create "a new banking system for Britain that gives real choice to customers and supports the economy".
6 March 2013
Ed Miliband meets Mr Flowers to discuss banking reform, as a member of Labour's Business and Industry Advisory Group. Mr Flowers was appointed to the group in 2010, the Daily Mail reports.
1 April 2013
Labour takes out a £1.2m loan from Co-op Bank, to be repaid by 2016.
24 April 2013
The planned sale of Lloyds branches to the Co-op Group falls through, with the Co-op blaming a worsening economic outlook and the tougher regulatory environment imposed on banks. Business Secretary Vince Cable expresses his disappointment.
May 2013
The Co-op Bank is found to have a £1.5bn black hole in its finances.
June 2013
Mr Flowers steps down as Co-op Bank chairman.
13 June 2013
The Commons Treasury Select Committee launches an inquiry into the collapse of the Co-op Bank's bid for the Lloyds branches.
29 August 2013
The Co-op Bank announces losses of £559m for the first half of the year.
26 October 2013
The Bank of England launches an inquiry into the circumstances leading to the discovery of the £1.5bn black hole at the Co-op Bank.
6 November 2013
Mr Flowers appears before the Treasury Select Committee. Chairman Conservative MP Andrew Tyrie asks if there was "anything in your background" to qualify him for his job at the Co-op Bank.
He replies that he worked in a bank for four years after leaving university and completed part one of the Institute of Bankers exam before becoming a Methodist minister.
"I would judge that experience is out of date in terms of the needs of contemporary banking," Mr Flowers adds.
17 November 2013
The Mail on Sunday publishes video footage of Mr Flowers allegedly spending £300 on cocaine and boasting about his use of other illegal drugs.
The Methodist Church suspends Mr Flowers for three weeks.
Mr Flowers issues an apology for "stupid and wrong" behaviour, saying he has been under pressure because of the bank's problems and a recent death in his family.
18 November 2013
Labour suspends Mr Flowers.
Treasury Committee chairman Andrew Tyrie says Mr Flowers was "manifestly unsuitable" to be chairman of a bank.
The Co-op Group launches a "fact-finding process to look into any inappropriate behaviour at the Co-operative Group or the Co-operative Bank and to take action as necessary".
19 November 2013
Co-op Group chairman Len Wardle, who led the board which appointed Mr Flowers, resigns. He says the revelations about Mr Flowers have raised "serious questions".
Mr Flowers' home in Bradford is searched by police following the drugs allegations.
20 November 2013
Chancellor George Osborne launches an independent inquiry into how Mr Flowers was deemed suitable to be chairman of the Co-op Bank.
Mr Flowers is suspended indefinitely from his post as a minister of the Methodist Church.
At prime minister's questions, David Cameron says the Co-op bank was "driven to the wall" by Mr Flowers, while he approved millions of pounds worth of "soft loans" to the Labour Party.
21 November 2013
The Charity Commission announces it is looking into the claims that Mr Flowers claimed tens of thousands of pounds in false expenses from the Lifeline Project, and its own handling of the allegations when they were reported to it in 2004.
The commission later says it does not seem to have been provided with any evidence at the time that showed Mr Flowers had "acted in bad faith or fraudulently".
Ed Balls says it is a "lie" to suggest the £50,000 donation he received in March 2012 from the Co-op was authorised by Mr Flowers. He adds that he has never had a personal meeting or direct phone or email contact with Mr Flowers, although he has met him at a group dinner.
Ed Miliband accuses the prime minister of "unjustified smears" and scoring "cheap political points". He instead points to "regulatory" failings which allowed Mr Flowers to become chairman of the Co-op Bank. The Treasury dismisses the Labour claims as "a total distraction".
22 November 2013
Mr Flowers is arrested in Merseyside in connection with a "drugs supply investigation". The BBC learns he resigned from the Co-op Group over concerns about his expenses.
14 January 2014
Mr Flowers answers bail in connection with the police drugs supply investigation and is then released again pending further inquiries until April.
His solicitor, Andy Hollas, says Mr Flowers' mood is "somewhat better, given some of the more emotional problems he has had since the death of his mother".
7 May 2014
Flowers pleads guilty at Leeds Magistrates' Court to charges of possessing cocaine, methamphetamine and ketamine.
The court hears he told police he took cocaine for about 18 months to "keep himself going" while he was suffering stress and caring for his then terminally ill mother.
He is fined £400 and ordered to pay £125 in costs.
On the same day, a report into the Co-op Group by former board member Lord Myners says the organisation should adopt a much smaller board and focus on being profitable in order to survive.
Lord Myners says the group's current board is "manifestly dysfunctional" and needs more members with business experience.