Nick Clegg dismisses Cameron 'green crap' report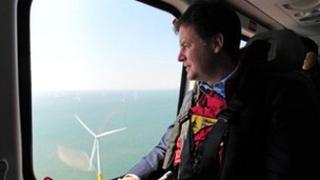 Deputy Prime Minister Nick Clegg has said a report David Cameron wants to "get rid of the green crap" was not "a fair reflection" of the PM's views.
The Sun reports a senior Tory source as saying Mr Cameron "is going round No 10 saying 'We've got to get rid of all this green crap'".
That is a reference to scrapping environmental levies on energy bills.
Mr Clegg disputed the reported comments during his LBC phone-in, adding that: "It isn't all crap, of course."
During his weekly session answering questions from the radio station's listeners he went on to defend the role of green taxes in supporting "tens of thousands people who work in the booming green energy centre" and "helping the most vulnerable" by paying for the Warm Home Discount.
He added that the government was investigating different options for bringing down household bills.
One proposal under consideration, he said, was that the government could pay for energy companies' environmental costs through general taxation rather than being added on to bills.
In March, the Department of Energy and Climate Change published a breakdown of taxes on energy bills that added up to £112 per year.
These include measures designed to make households more energy efficient and offset costs for consumers on low-incomes, as well as "green" levies on fossil fuel emissions.
The DECC report lists the costs involved:
Energy Company Obligation (£47)
Renewable Obligation (£30)
EU Emissions Trading System (£8)
Carbon Price Floor (£5)
Warm Home Discount (£11)
Feed-in Tariffs (£7)
Smart Meters and Better Billing (£3).
Energy prices have provided the main territory for battles waged between the Conservatives and Labour since opposition leader Ed Miliband announced at his party conference he would freeze energy prices for 20 months if he was elected in 2015.
David Cameron has condemned the pledge as "a con", saying it would lead energy companies to raise prices to unaffordable levels before a freeze.
The Sun reports its Tory source as saying: "We used to say 'Vote Blue, Go Green', now it's 'Vote Blue, Get Real'."