Ed Miliband accuses PM of 'smears' over Co-op's Flowers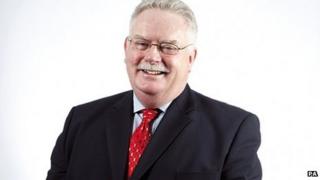 Ed Miliband has accused David Cameron of "unjustified smears" over claims about Labour's links to disgraced ex-Co-op Bank chairman Paul Flowers.
The Labour leader said the PM was scoring "cheap political points" and ignoring serious regulatory issues.
The prime minister has suggested Labour was aware of concerns about Mr Flowers but did nothing about them.
He has ordered an inquiry into how Mr Flowers was deemed a suitable chairman of the bank.
Mr Miliband said he had suspended Mr Flowers from the Labour Party as soon as he learned of allegations about the Methodist minister.
He said the former Labour councillor had "deeply let down" people, but the inquiry should focus on the regulatory failings that allowed him to become chairman of the Co-op Bank.
He said Labour had a "long-standing" commercial relationship with the bank, which predated Mr Flowers's role, and he was satisfied there were no questions to answer on it.
"The Conservative Party is just trying to throw around wild allegations," said Mr Miliband.
"What the inquiry needs to be looking at is the regulatory failings."
'Driven to wall'
Mr Flowers apologised after a video on the Mail on Sunday website showed him handing over £300 in a car, apparently to buy cocaine.
It has since emerged that:
Mr Flowers resigned as a Labour councillor in Bradford in 2011 after "inappropriate but not illegal adult content" was found on his computer
He resigned from running drugs charity Lifeline in 2004 after allegedly lodging false expenses claims. According to Thursday's Daily Mail, the figure involved was £150,000. The Charity Commission said it had received a complaint at the time but had no evidence Mr Flowers "acted in bad faith or fraudulently"
He was convicted of drink-driving in 1990. A Methodist Church disciplinary hearing was held but he was allowed to continue his role in the Church
In 2005, he referred himself to local authority watchdog Standards Board for England for sending a "joke" message to council colleagues that was alleged to have had "sexual connotations", according to the Daily Telegraph
Co-op Group has asked Mr Flowers to return £31,000 he has been paid as its vice-chairman since resigning as chairman in June. A source told BBC News: "We want it back, because he has brought Co-op into disrepute."
The Co-op Group is also investigating Mr Flowers' expenses, computer and emails
David Cameron has claimed the Co-op bank was "driven to the wall" by Mr Flowers, while he approved millions of pounds worth of "soft loans" to the Labour Party.
He said Mr Flowers, who was a business adviser to Mr Miliband, had "trooped in and out of Downing Street under Labour".
Labour has hit back by attempting to implicate Chancellor George Osborne in the controversy.
The party says Mr Osborne failed to carry out due diligence on the Co-op Bank over its plan to buy more than 600 branches from Lloyds Bank and that he pressed the EU to ease regulation on mutuals, including the Co-op.
Labour claims Treasury ministers had 30 meetings with the Co-op Bank over its future but Conservative Party chairman Grant Shapps said that was not the same as taking money from it.
He said it was in the "public interest" to investigate the way the "much-loved" bank had been run - but also what he said were the close links between Mr Flowers and senior Labour figures.
"How is it that somebody who is so inappropriate to be the chairman of the Co-op Bank was also the person signing off donation, at what seems like 'mates rates'... to Ed Miliband, to the Labour Party, for millions of pounds?", he said.
He said the Labour leadership must have been aware of questions about Mr Flowers after he had resigned as a Labour councillor.
Mr Flowers had also told MPs he had personally approved a £50,000 donation to Ed Balls, said Mr Shapps.
This is strongly denied by Mr Balls, who says Mr Flowers had no involvement in the donation.
The shadow chancellor says he never had a personal meeting with Mr Flowers or any direct phone or email contact with him, although he met him at a group dinner.
He says David Cameron's claims he and Mr Miliband were aware of concerns about Mr Flowers but did nothing are a "lie".
Lib Dem leader Nick Clegg, said the stories about Mr Flowers "all sound extremely murky" and "very searching questions needed to be asked."
The Lib Dems have received thousands of pounds from the Co-op Bank through so-called affinity income.
A Lib Dem credit card, run by the bank, raises £15 for the party for every account opened, and 25p is donated by the bank for every £100 spent.
Party accounts show that over the past three years it has received more than £115,000 through affinity income and the Co-op credit card is the largest contributor to that pot. A Lib Dem spokesman said there were no plans to change the arrangement.
'No grasp'
BBC business editor Robert Peston said it was unlikely that Mr Osborne would have ordered the then regulator, the Financial Services Authority, to make the £750m Lloyds deal happen despite its concerns that the Co-op had too little capital.
He says in his blog: "This can't be the case, because if it was, George Osborne would be signing his own execution by ordering an investigation into all this.
"Perhaps more likely is that the FSA simply didn't have the backbone to go against the prevailing political mood, that co-ops and mutuals were a good thing, and needed to be promoted."
When Mr Flowers appeared before the Treasury Select Committee of MPs on 6 November, he appeared to have "no grasp" of basic facts about the bank, Peston said.
Mr Flowers had never worked in the banking sector in "any senior capacity", he said, but had been appointed chairman of the Co-op Bank as a result of a "power struggle within the co-operative movement".
The independent inquiry cannot begin until police have concluded their investigation into allegations that Mr Flowers bought and used illegal drugs.
Lifeline complaint
The Charity Commission said it "does not appear" that it was provided with any evidence that Reverend Paul Flowers "acted in bad faith or fraudulently" in claiming expenses from the Lifeline Project charity.
Lifeline says it was concerned by the scale and type of expenses, such as meals and travel, claimed by Mr Flowers when he was a trustee.
It launched an investigation but Mr Flowers left the charity before it was completed.
The Charity Commission has confirmed that Lifeline informed it of concerns about Mr Flowers' claims.
However, it says it appeared that trustees of the charity had been able to claim expenses such as a company credit card, car lease and mileage, which were not allowed under charity or company law.
"It seems that expenses arrangements were agreed by the charity's board. None of the files we currently hold suggest that the charity or the Commission considered reporting the matter to the police.
"We cannot, therefore, at this time verify media reports that a former trustee 'stole' money from the charity or made 'fraudulent claims'," said the charities regulator.
The Commission says Lifeline Projects did ask it for advice taking legal action to recover £65,000 of expenses.
However, the Commission says it told Lifeline it had not provided any evidence to support claims Mr Flowers had acted in bad faith or had claimed for expenses that were not related to the charity's work.