Labour would revive new town concept, says Ed Balls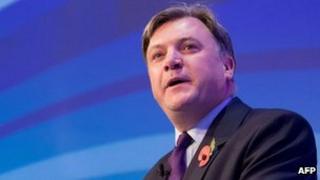 The next Labour government would launch the biggest programme of new town construction in decades, shadow chancellor Ed Balls has said.
He repeated the party's commitment to build 200,000 new homes a year by 2020, in a move aimed at making housing a key battleground at the next election.
He also wants Treasury-backed cheap finance for house builders.
Government plans for new garden cities have run into opposition from local authorities.
Prime Minister David Cameron announced last year he wanted to see a new generation of garden cities to solve Britain's housing shortage.
But Communities Secretary Eric Pickles has reportedly said he will not "impose" them on areas that do not want them.
The previous Labour government also ran into local opposition when it tried build a series of "eco-towns", many of which fell by the wayside.
Mr Balls told the National Housebuilding Council he was considering the revival of development corporations, with sweeping powers to buy land - and Treasury guarantees to get the finance they need to start building.
The first wave of development corporations led to the creation of 27 new towns across the UK - including Stevenage, Harlow, Milton Keynes, Corby, Cwmbran, Newton Aycliffe, Peterlee and Cumbernauld - in the years after World War Two.
Mr Balls said: "We should draw on the lessons from the past of how the new towns were developed after the Second World War by development corporations, which had the powers to acquire, own, manage and dispose of land and property, undertake building operation, provide public utilities and do anything else necessary to develop the new town.
"We cannot afford to dither any longer, and I cannot see a stronger case for the full-throated backing of the chancellor than a step change in housing supply," he will say.
"Unless we build more affordable homes, house prices relative to earnings will remain high, houses will remain unaffordable, and many people will never realise their dream of owning their own home."
'Fundamental flaw'
In his speech Mr Balls also backed the government's Help to Buy scheme as "one element in a balanced housing plan to secure economic recovery".
"It is vital that we give those with some savings who want to buy a home access to the housing market," he said.
But he argued that the Bank of England should urgently review whether the amount buyers can borrow under the taxpayer-backed scheme is too high at £600,000.
He suggested the "fundamental flaw" in the government's plans was a failure to boost housing supply adequately.
"If Help to Buy merely boosts demand for housing without being matched by action to increase housing supply, then house prices will rise and rise.
"The danger with this kind of unbalanced approach is that home ownership will be pushed even further out of reach for the aspiring first-time buyers that Help to Buy should be helping."
His comments come as new figures suggest Britain's builders are working on the largest numbers of new homes since the 2008 financial crisis.
The government said private housebuilders started work on 28,580 new homes between July and September this year, the highest number begun in a quarter since the first three months of 2008, and 29% higher than the same period in 2012.
The Chartered Institute of Housing welcomed the figures but added: "These figures show we are still nowhere near tackling our national housing crisis, which is causing misery for millions of people who are unable to secure a decent home at a price they can afford."
The trade body said local councils should be allowed to borrow more money to build homes.