Labour rejects calls to cull benefits for under-25s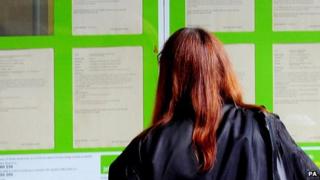 Labour has rejected calls for it to axe most benefits for the under-25s and link others to training if it wins the next general election.
The party has distanced itself from a think tank's call for out-of-work benefits for 18-24 year olds to be replaced by a single "youth allowance" to stop a "drift into inactivity".
Labour's Rachel Reeves said this "is not and will not be our policy".
The Conservatives have said they are considering cutting youth benefits.
In the past, Ed Miliband has suggested that future Labour government would remove benefits from under 25s who have been unemployed for more a year and refuse to sign up to state-backed work training schemes.
The Institute for Public Policy Research, which has close links to Labour, has gone further by saying the majority of young people should no longer be able to claim Jobseeker's Allowance (JSA), Employment Support Allowance and Income Support at all.
Instead, it says they should be paid a single youth allowance at the similar rate to JSA - currently £56.80 a week - while they gain new skills and seek work. The financial support would be conditional of them being in "purposeful" training or "intensive" job hunting.
'Inactivity'
The latest official figures show there are 1.09 million people between the ages of 16 and 24 not in work, education or training.
The number of so-called Neets is much higher in the UK than other European countries, the IPPR argues, as too many young people fail to make "early connections" to the workplace.
It says the £8.5bn spent on benefits for the under-25s is a significant burden on the taxpayer and risks consigning people to a prolonged period of worklessness - with more than half of people claiming ESA having done so for more than a year.
The UK, it argues, should follow the lead of Netherlands and the Denmark - where Neet rates are half of those in the UK - by "closing off routes" to out-of-work benefits and encouraging young people to complete their education before entering the workplace and prioritising vocational training and apprenticeships.
While, under its plan, young people would be guaranteed access to further education or vocational training and given help to find work or an apprenticeship - there would be "no option" for people to refuse and still receive benefits.
"It is impossible to reduce the number of 126-24 year olds who are Neet to zero and a return to sustained economic growth is a precondition for the headline rate of youth unemployment to fall," said the report's author Graeme Cooke.
"However, unlike previous reforms, our new proposals directly address the well-known weaknesses in this country by ensuring that young people can complete their initial education and gain workplace experience while not drifting into inactivity."
Distanced
Labour has been flirting with ways to reduce the welfare bill for the under-25s and making benefits more conditional on being in training or searching for work.
But the party distanced itself from the IPPR report - which also calls for a shake-up of the government's work programme and for child benefit to be stopped at the end of the school year after a child turns 18.
"This is not and will not be our policy," Ms Reeves, the shadow work and pensions secretary, tweeted during an online discussion.
"It is not our plan. It is totally not my position," she added.
In a statement, the party said it was committed to its current policy of a jobs guarantee for those out of work for more than two years, backed up by benefit sanctions. This could be extended in time to those out of work for more than a year.
"Ed Miliband has talked about making the welfare system work for young people, with a compulsory jobs guarantee, to sustainably bring down the social security bill," a party spokesperson said.
"Compare that with David Cameron's simplistic attempts to take benefits from all young people, which would harm the severely disabled, which were drawn up on back of a fag packet to try and please Tory conference."
Mr Cameron told Tory activists last month that he wanted a review of policies for 16 to 25-year-olds and promised to "nag and push and guide" young people away from a life on the dole.