Cameron makes first call to Iran's Rouhani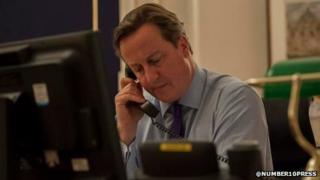 David Cameron has become the first UK prime minister in more than a decade to call an Iranian president, No 10 says.
Hassan Rouhani and Mr Cameron discussed Iran's nuclear programme, a Downing Street spokesman said.
The two men "agreed to continue efforts to improve the relationship" between the UK and Iran, he added.
On Monday, President Rouhani warned world leaders seeking to curb his country's nuclear ambitions not to make "excessive demands".
Representatives from Iran and the P5+1 group of nations will begin a new round of negotiations in Geneva on Wednesday.
Three days of high-level talks earlier this month failed to achieve a breakthrough.
Iran says its uranium-enrichment is for energy-creation purposes, rather than weapons.
But US Secretary of State John Kerry has said that Washington continues to be sceptical about Iran's willingness to roll back its nuclear programme.
A Downing Street spokesman said of Tuesday's phonecall: "The two leaders discussed the bilateral relationship between Britain and Iran, welcoming the steps taken since President Rouhani took office, including the appointment of non-resident charges d'affaires last week.
"They agreed to continue efforts to improve the relationship on a step by step and reciprocal basis."
The spokesman said both leaders agreed that significant progress had been made in the recent Geneva negotiations and that it was important to "seize the opportunity presented by the further round of talks" which start on Wednesday.
"The prime minister underlined the necessity of Iran comprehensively addressing the concerns of the international community about their nuclear programme, including the need for greater transparency.
"On Syria, there was agreement on the need for a political solution to end the bloodshed."
The UK shut its Tehran embassy in 2011 after it was stormed in a protest over sanctions imposed because of its nuclear programme.
As efforts to improve relations continue, the UK's new charge d'affaires for Iran, Ajay Sharma, was named by the Foreign Office last week. He is expected to visit the country later this month.
Iran has appointed Mohammad Hassan Habibollah as its charge d'affaires for the UK.