Bill Cash warns about 'clash' with EU over human rights laws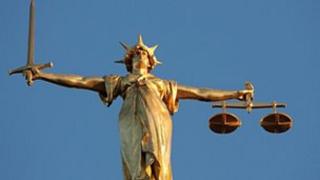 A Tory MP has warned of a "fundamental clash" between Parliament and the European Union over the application of human rights laws in the UK.
Bill Cash said a recent legal ruling on the scope of the Charter of Fundamental Rights would "open the floodgates" to a "tidal wave" of judicial challenges.
The UK negotiated an opt-out from the EU-wide charter, which defines rights in a range of different areas, in 2007.
Ministers said they would be seeking legal "clarity" as soon as possible.
The charter, which formed part of the EU's Lisbon Treaty, sets out rights to environmental protection and medical treatment, as well as civil, social and other rights.
'Enormous cost'
When the UK agreed to sign up to Lisbon, the then prime minister Tony Blair secured an opt-out from the charter amid concerns about the impact on British justice.
But earlier this month, in a ruling in the High Court, Mr Justice Mostyn said the charter appeared to be legally binding in the UK.
He made the comments after lawyers for an asylum seeker cited the charter in their attempt to avoid their client's deportation - a move which ultimately failed.
While it was "absolutely clear" from the Lisbon Treaty that the charter would not be enforceable in this country, Mr Justice Mostyn said a recent ruling by the European Court of Justice, the EU's highest court, seemed to have reversed this position in a move which he said would permanently extend the reach of human rights legislation.
Raising the matter in the House of Commons, Mr Cash suggested this would "open the floodgates now to a tidal wave of charter-based legal action at enormous cost to the British taxpayer and businesses".
He said it also raised the prospect of "a fundamental clash between Westminster supremacy and the claims of the EU and the European Court of Justice".
The MP called on the government to draft legislation to "re-affirm the supremacy" of Parliament by making clear that the charter was not binding on UK courts.
Responding for the government, Justice Secretary Chris Grayling said he did not agree with Mr Justice Mostyn's "analysis" and ministers planned to test the arguments "at the earliest opportunity" when a suitable case involving the charter next came before the courts.
"The charter's effects are limited to EU law within the UK and I have not seen any evidence it goes beyond that," he told Parliament. "I would be very concerned if there were any suggestions that the charter did, in fact, create new rights."
He said the matter would also be looked at by the government in its current audit of EU powers.