Business warning over 'costly' delays to new airport links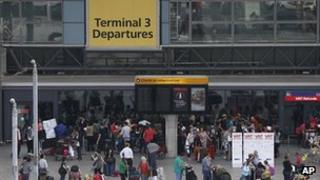 Britain must increase its airport capacity or risk becoming a second-tier global economy, some of the UK's largest businesses are warning.
Boots, Dixons, John Lewis, Next and Lloyds are among those pressing for action to build new runways and terminals over the next 20 years.
They are urging political parties to commit to back recommendations of Sir Howard Davies' review into capacity.
The review is looking at all options, including a third runway at Heathrow.
Most airlines back extending Heathrow but it is opposed by environmental campaigners and by the Mayor of London Boris Johnson.
The review into capacity in the south of England, led by former London School of Economics and Confederation of British Industry boss Sir Howard Davies, will not publish its findings until after the next election.
'Capacity crunch'
But the 'Let Britain Fly' consortium of more than 100 businesses wants the Conservatives, Liberal Democrats and Labour to commit in their 2015 manifestos to be "guided by" the report, whatever its recommendations.
The businesses do not specifically mention Heathrow expansion in their mission statement but note that the airport has been "full for over a decade, whilst all of the capital's airports, including Gatwick and Stansted are forecast to be full by the mid-2020s".
They warn of an "airport capacity crunch" unless action is taken, saying economic competitiveness depends on international connectivity and that delays to a decision on where new runways will be built "is costing our economy billions in trade and investment".
"Sorting out policy quickly to increase airport capacity in the south east of England is vital to enable long term economic growth, not just in the south east but for the UK as a whole," said John Allan, chairman of Dixons.
Tory MP Graham Brady, who is backing the campaign, said it was essential the three parties set aside political differences to build a consensus on the way forward.
"Fifty years of political indecision is inexcusable," he said. "The Airports Commission must mark the end of 50 years of indecision. For Britain's sake we need to get on with the job of building the airport capacity that is so badly overdue."