Immigrant spot checks to continue, says minister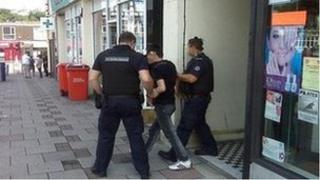 Immigration spot checks at railway stations will be used again, the UK immigration minister has told the BBC.
Mark Harper said operations in Kensal Green and Walthamstow in London had seen 77 people stopped, with 17 people arrested for being in the UK illegally.
Mr Harper called that a "very good" rate reflecting the fact they were intelligence-led rather than relying on racial profiling to stop people.
He said spot checks had run since 2008 and "we believe they are successful".
Of the 17 arrested, plus another one from a different spot check, during the operations on 30 July and 1 August, six have been removed from the UK, two have outstanding asylum claims and 10 are going through the removals process, he said.
The checks in the summer caused controversy and came at the same time vans with billboards telling illegal immigrants to "go home or face arrest" were used.
The Equality and Human Rights Commission said it would examine the powers used and their "justification".
The Home Office said in August there had been 228 immigration street operations since 2008.
The guidance says street operations are designed to "target immigration offenders where intelligence has shown that they are gathered at specific locations at certain times".