Stamp duty should start at £500,000, say Conservative MPs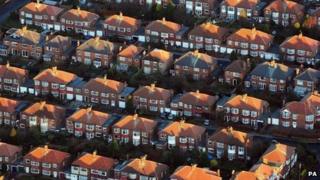 Stamp duty should be scrapped on all homes worth under £500,000, a group of Conservative MPs has recommended.
The Free Enterprise Group is also calling for the threshold at which people start paying higher-rate income tax to increase to £50,000.
The MPs argue that middle-income households need more help to improve standards of living and that government can make the system tax more efficient.
The stamp duty change would mean £2.4bn less tax was paid, they say.
But Deputy Prime Minister Nick Clegg said the wealthiest home owners should "pay a bit extra".
The Free Enterprise Group has proposed a package of tax cuts worth £15.8bn a year.
It said raising the higher-rate income tax threshold - the level above which income is taxed at 40% - from the current £32,011 (after the zero-tax "personal allowance" of £9,440) to £50,000 would cost the Exchequer £5bn.
Proposing ideas ahead of George Osborne's Autumn Statement, where the chancellor will set out his plans, the group also advocated freezing business rates for three years, which it said would cost £3.8bn.
The group said options for making up the shortfall could include ending the ring-fencing of education and health from spending cuts, halving the number of government departments and abolishing housing benefits for under-25s.
The group's supporters include Treasury Select Committee chairman Andrew Tyrie and environment minister George Eustice.
'Notoriously inefficient'
Stamp duty, payable on the purchase of a property, currently kicks in at a value of £125,001, being charged at an initial rate of 1%.
This increases to 3% on homes worth £250,001 and above and 4% on those worth £500,001 or more.
The rate is payable on the entire value of the property, which opponents argue is unfair.
The Free Enterprise Group said: "Stamp duty is a notoriously inefficient tax.
"Abolishing the 1% and 3% bands would cost £2.4bn, and ensure it only kicked in for properties worth more than £500,000.
"This is more than double the average house price, and even higher than the average in Greater London."
The Conservative MPs' call is in contrast to the Liberal Democrat policy of introducing a "mansion tax" on properties worth more than £2m.
At his monthly press conference, Lib Dem leader Nick Clegg said this was a "fair" and "rational" proposal.
Mr Clegg criticised Conservatives who he said did not want to ask the wealthy to "pay a bit extra".
'Weightwatchers for Whitehall'
The Free Enterprise Group has "developed a reputation for dreaming up bold policy ideas", BBC political correspondent Chris Mason said.
"The aim is to shift the political debate and nudge David Cameron on to territory the group thinks is more authentically Conservative and a vote winner."
At an event at the free market think tank the Institute of Economic Affairs on Monday, Conservative MP Dominic Raab set out a plan he called "Weightwatchers for Whitehall".
He suggested culling almost half of the government's departments could save £8bn a year.
His ideas included folding the Ministry of Justice into the Home Office, and the Department for International Development into the Foreign Office.
"You have got an overflowing bath which represents debt, and the taps and gushing water represents the deficit," he told the BBC.
"We've cut that gushing water by a third, but the bath is still overflowing."
VAT cut
Kwasi Kwarteng, Conservative MP for Spelthorne in Surrey, set out his case for a significant cut in VAT to a flat rate of 15%.
The standard VAT rate is currently 20%.
Mr Kwarteng said this would be paid for by introducing VAT on children's clothes and food.
He acknowledged this idea would be "controversial" but said it would "help poorer people very directly, because indirect taxes are very regressive because everyone has to pay them".
But fellow Tory Brooks Newmark, MP for Braintree, said the idea was "potentially toxic and dangerous" because of the introduction of tax on currently exempted goods.