Profile: Denis MacShane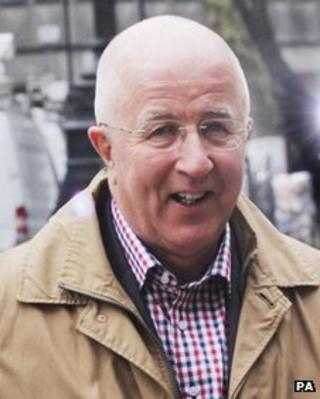 Denis MacShane's guilty plea for expenses fraud comes more than four years after the original scandal which engulfed Westminster.
MacShane is the second former minister, and one of a number of MPs and parliamentarians, to have either admitted or been found guilty of falsifying their claims.
The twice married former Rotherham MP, 65, is arguably the most high-profile casualty to date, having served as Europe minister for three years between 2002 and 2005.
During that time, the multi-lingual MP was regularly seen representing prime minister Tony Blair on the world stage.
He was regarded as an obvious candidate for the role, both by family background - his mother was Irish and his father Polish - and by inclination as a leading europhile.
MacShane was known in Westminster for his love of French politics and culture, he carried a copy of Le Monde during one of his recent court appearances.
Sacked from BBC
The former MP was born Denis Matyjaszek in Glasgow in 1948 but took his mother's maiden name early in his professional life.
He went on to study at Merton College, Oxford, before later getting a PhD in economics from Birkbeck College in London.
After university MacShane joined the BBC in 1969, working as a presenter and reporter in local radio. While at the BBC he failed in an attempt to get elected to Parliament, standing in October 1974 in Solihull.
His career at the BBC ended after eight years years when he was forced to resign after making a hoax call to a programme accusing the former Conservative home secretary Reginald Maudling of being a crook.
He bounced back to become president of the National Union of Journalists and in the 1980s, he worked as policy director of the Geneva-based International Metalworkers Federation.
In that role he travelled to a variety of different countries to support pro-democracy movements, including Poland's Solidarity movement - an involvement which led to a brief spell in prison.
He has written a number of books, including ones about Solidarity, former French President Francois Mitterrand, Kosovo and Ted Heath.
MacShane, who founded the European Policy Institute in 1992, became an MP in 1994 when he was elected as Labour MP for Rotherham.
Phone hacking
After serving as a ministerial aide in Labour's first term in power, he became a junior minister in 2001, becoming Europe minister in October 2002.
In that role he was frequently the public face, and voice, of pro-Europeans in Parliament and on media outlets. But his frontbench career came to an end when he was sacked after the 2005 election.
Although he said he had no idea why he lost his job, remarks in which he had described Gordon Brown's tests for joining a single currency as a "giant red herring" were thought to have played a part.
MacShane initially denied the comments, made to students in Durham, but they were recorded and played back live on TV.
Made a privy counsellor in 2005 he became a UK delegate to both the Council of Europe and the Nato Parliamentary Assembly and went on to chair the inquiry panel of the All-Party Parliamentary Group against Anti-Semitism.
He spoke out against phone hacking and received £32,500 in damages from News International for his privacy being breached after his daughter Clare - whose mother was the TV newsreader Carol Barnes - died in a skydiving accident in 2004.
MacShane, who has four children from two marriages, had initially appeared to brush off the allegations about his expenses but eventually had to resign as an MP after a damning parliamentary report last November.
It included MacShane's disclosure that he used a "nom de plume" to fake thousands of pounds-worth of receipts from the European Policy Institute as a "convenient vehicle" to fund research trips to the continent.
Although the letters in which he admitted faking the invoices were thought to be covered by Parliamentary privilege the police decided there was enough evidence to relaunch their investigation - a process which led to charges, and now, MacShane pleading guilty in court.