Labour united despite 'Balls a nightmare' email - Burnham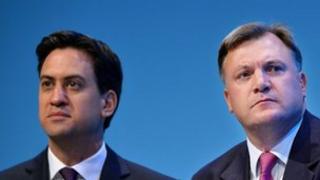 Shadow health secretary Andy Burnham claims Labour's front bench is "united" after leaked emails suggested tensions between Ed Balls and Ed Miliband.
In one email, leaked to the Mail on Sunday, one of Mr Miliband's aides describes Mr Balls as a "nightmare".
It shows Mr Miliband is "too weak" to sack the shadow chancellor, Tory party chairman Grant Shapps said.
But Mr Burnham accused the media of "scraping the barrel" by covering the story as it was groundless.
The email chain between advisers appears to reveal tensions between Mr Miliband and Mr Balls over Labour's message on the economy.
In one message, Mr Miliband's adviser Torsten Bell describes Mr Balls's response to this week's optimistic growth, jobs and inflation forecasts from the Bank of England as a "nightmare".
'Good friend'
He was responding to a briefing by the shadow chancellor's senior aide Alex Berlardinelli which argued for a "recovery built to last" and focused on "cost of living" and an "economy that works for working people".
Mr Bell forwarded the briefing on to another member of Mr Miliband's team "as an example of why we're having problems on EB messaging". He lists the main points of the briefing before signing off with a single word "Nightmare".
The story was seized on by Grant Shapps as evidence Labour had not moved on from the infighting of the Blair/Brown years.
The Conservative Party chairman said: "With Labour's two most senior figures at each other's throats, they cannot be trusted to run the economy."
He claimed Mr Miliband "never wanted Balls in the post" but was "too weak" to sack him.
There have been claims of tensions between the two men over Labour's economic policy and how it should respond to the recent economic upturn.
But Andy Burnham, who like Mr Balls was beaten to the Labour leadership by Ed Miliband in 2010, insisted the party's front bench was more united than he had ever known it.
Asked if he saw Mr Balls as a "nightmare", Mr Burnham told BBC One's Sunday Politics show: "No, I don't at all.
"He's a very good friend and I can't believe to be honest that you're talking about those emails on a national political programme.
"My goodness, you're obviously scraping the barrel today.
"I've been in frontline Labour politics for 20 years. I can't remember the front bench - and indeed the wider party - being as united as it is today and that's a great credit to Ed Miliband and to Ed Balls.
"We're a united team, we're going into a general election and we're going to get rid of a pretty disastrous coalition government."