Michael Gove hits out at 'lucky' Simon Cowell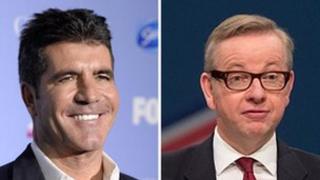 Michael Gove has condemned Simon Cowell after the media mogul was quoted saying the secret to success was to be useless at school then "get lucky".
The education secretary told Mailonline Mr Cowell's comments were "irresponsible and stupid" and said they undermined teachers' efforts.
Celebrities like Mr Cowell should encourage education not rubbish it, he said.
The X Factor millionaire made the comments to US radio station Z100.
He said: "I didn't work hard when I was at school. I left at 16 and I didn't have any qualifications. I was useless. The secret is to be useless at school and then get lucky."
Mr Gove said: "This is an irresponsible and stupid thing to say. Teachers strive every day to ensure children understand the importance of learning, hard work and discipline. Simon Cowell's comments undermine their efforts.
"The truth is that only a tiny fraction of people get lucky.
"For everybody else, it's all about hard work and that starts with hard work at school. Celebrities like Mr Cowell should encourage education, not rubbish it."
Simon Cowell's representatives hit back at Mr Gove's criticisms.
The media mogul's spokesman said: "This was quite clearly a joke made in a humorous radio interview and has been taken completely out of context."