'Old' shouldn't dominate politics, Youth Parliament told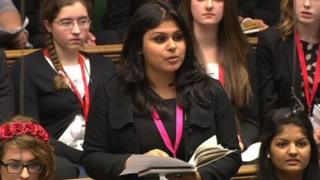 The "priorities of the old" must not be allowed to dominate British politics, a minister has told a session of the Youth Parliament in the Commons.
Nick Hurd also said it was a source of national shame that there were 58,000 under-25s without jobs in the UK.
But the minister for civil society added that youth unemployment had risen when Labour was in power.
More than 300 youngsters aged 11 to 18 crowded into the Commons chamber for the Youth Parliament.
It is the third year in a row the event has been held in the chamber - the only time it is opened to non-MPs.
The young people voted for a motion to "radically" overhaul the national curriculum to include better sex education and lessons about cultural awareness, community cohesion and personal financial management.
That motion - which will now form the basis of a national campaign in 2014 - only related to the Youth Parliament in England.
In a separate ballot covering the whole of the UK, the MYPs voted to extend the right to vote in all public elections to 16- and 17-year-olds.
In a lively, day-long session - punctuated by laughter and cheers as MYPs from different parts of the UK were called to speak - the young people also debated youth unemployment, careers advice and online bullying.
Student Scott Lamond said: "Facebook, Twitter and the notorious ask.fm - these are all things we have heard of in the news and these are now weapons of bullying.
"It used to be that young people could go home to a safe haven, now you can be accessed by bullies wherever you are in the world."
Faraz Hanif, from east London, said: "Bullying is a problem because the education system is currently lacking. I think the problem is that society has created the image of the perfect man and the perfect woman and if you do not fit in that image then you are looked down upon by society.
"Teachers need to start teaching students how to grow their self-esteem because that is the problem at the moment."
Perdita Blinkhorn, who represents young people in Medway, Kent, said schools needed to do more than say they had a zero-tolerance approach to bullying.
MYPs also called for the government to change the national curriculum so that all students were offered at least one week's work experience in a job of their choice.
Ben Rowden, from Middlesbrough, said he "didn't fancy making tea and coffee for a whole week".
But Stacey Atim Uma, from Wolverhampton, said many students needed to "pull their socks up" and go and find work experience for themselves.
Nick Hurd said he agreed with the MYPs who said the young were not being properly trained for the world of work.
The 50-year-old minister said the number of young jobless was a "source of national shame" but added: "Before anyone starts to make too many political points about this: youth unemployment rose 40% under the last government during good times."
He said low voting levels by young people were a source of concern: "Because what I'm very clear about is that we cannot let the politics of this country and this place be dominated by the politics and priorities of old people. And if we're not careful, there's a real danger that we will."
He pledged to champion the concerns raised by the UKYP at next week's Cabinet meeting, telling them: "It is enormously important that we create the space for young people not just to be heard, and I think today has been really important in reinforcing that - the issues you raise are massive."
This year's UK Youth Parliament has a record mandate of almost half a million votes.
Opening the day's proceedings, Commons Speaker John Bercow said: "The British Youth Council state that this is a record turnout, very specifically, it is a dramatic improvement on the turnout of 253,000 last year - almost a doubling of the level of interest."
Shadow Commons leader Angela Eagle said the turnout proved young people were very much politically engaged and she criticised comedian and actor Russell Brand for remaining on the sidelines.
She said: "I was dismayed to see Russell Brand being interviewed a few weeks ago, complaining about how our political system was failing, but then admitting that he didn't vote and he didn't plan to.
"You can't change anything by sitting on the sidelines; you have to be part of the process."