Labour deletes part of its website archive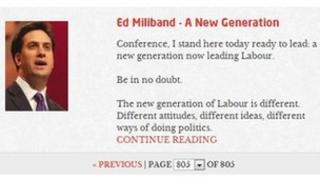 Some speeches and press releases published on the Labour Party website before 2010 have been deleted.
On Wednesday, the party seized on revelations that the Conservatives had purged their online archive and blocked search engines from indexing old content, calling it a "cynical stunt".
Labour has now admitted its own website is also "regularly updated".
But the party says it has not tried to block search engines from keeping a record of its archived pages.
Commentators have pointed out that Labour's current news archive dates back only as far as the start of Ed Miliband's leadership, in 2010.
A large amount of older content is still available on the party's website, even though it is no longer listed in the news archive. Some older pages have been deleted, however.
Speeches delivered by Tony Blair during his time as prime minister appear to have been deleted.
There also appear to be just two references to "boom and bust" - a phrase regularly deployed by former PM and ex-chancellor Gordon Brown to criticise his Conservative opponents' stewardship of the economy. One of those references is in a speech by party leader Ed Miliband distancing himself from Mr Brown.
The Conservatives came under fire on Wednesday after trade magazine Computer Weekly reported that much of the party's online archive had been deleted "sometime after 5 October".
In addition to the deletions, a text file was added to the website, called "robots.txt" - a standard way of telling search engines which parts of a website they should not try to index.
The robots.txt file had the effect of preventing search engines from continuing to make public a record of the website's former contents.
Labour's decision not to use a robots.txt file means that much of its deleted content is still available on the Internet Archive, a separate website which aims to create a permanent record of web content.
"Unlike the Tories, Labour has not tried to block or prevent internet search engines from accessing previously published material," a Labour spokesman said.