Cameron in India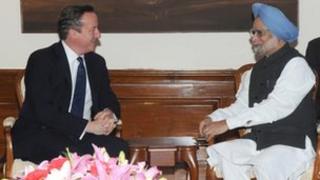 "I've come here more times as prime minister than I've been anywhere other than Belgium," said David Cameron, "and I've no choice about doing so".
He was explaining his second visit to India this year and his third since he moved into No 10.
What was striking was not just that he is here in Delhi again but that he was surrounded by many key Cameroons - the head of the No 10 policy unit Jo Johnson, ministerial fixer Oliver Letwin and governmental allies Nick Boles and Greg Barker as well as the Downing Street thinker Ameet Gill.
It is clear that they are taking seriously all that talk of "the global race". The next Tory manifesto should, perhaps, say "made in India".
The prime minister and his team are all in Delhi for what's being billed as an EU-Indian Davos - the grandly titled "leaders conclave" of an organisation which brings together Indian and British business and political leaders.
Here the prime minister found himself challenged on whether his immigration policies are a throwback to the days of the Raj.
Indians loathed the talk of bonds and the clampdown on student visas which has led to a dramatic and costly fall in the numbers going to British universities. He was asked whether he will end up leading "great Britain or little England" after the Scottish and EU referendums.
He was forced to justify his decision to travel from here to Sri Lanka when India's prime minister will stay at home rather than attend a summit hosted by a man who stands accused of war crimes and persistent human rights violations.
When I first travelled with a prime minister to Delhi more than a decade ago there was little doubt which country and which leader cut the bigger figure on the world stage. There is now.